Black Friday Meal Delivery Service Freebie Guide
November 23, 2018 by Eric White
This Black Friday, after you've eaten everything there is to eat and you're completely stuffed with turkey and all the fixings, turn your thoughts to even more food! Trust us. Black Friday is a great time of the year to save on products you need and love, but it's also a great time to sign up for a meal delivery service and take advantage of deals and freebies.
Here are the top meal delivery services offering freebies and deals this Black Friday.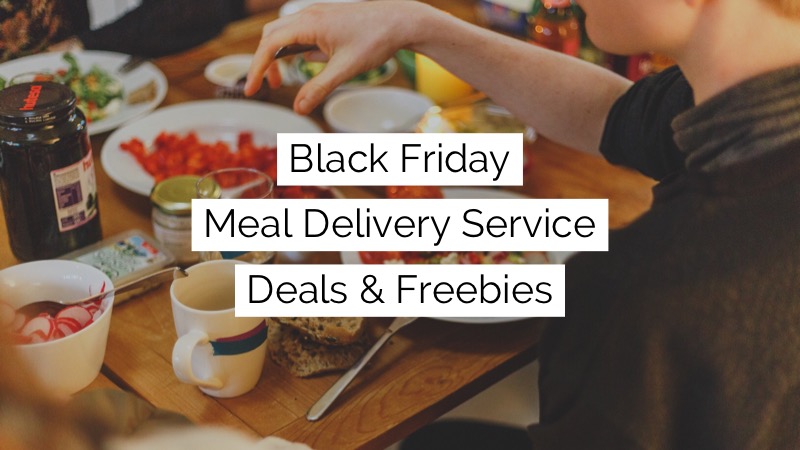 Meal Delivery Services with Black Friday Deals
Butcher Box: If you like meat, then we've got quite the deal for you. Butcher Box, the meal delivery service that exists solely to serve the best meats via the mail, is offering a limited time steak sampler deal this Black Friday! Order your first Butcher Box between November 23-26 and you'll receive 6 free steaks in your order, including 2 ribeyes, 2 filet mignons and 2 NY strip steaks. That's a lot of free steak! Visit our Butcher Box Black Friday deals to save money on your steak sampler.
HelloFresh: For those interested in cooking full meals with fresh ingredients delivered right to your door, HelloFresh is a top option to consider. This Black Friday, enjoying meals courtesy of HelloFresh is a little cheaper and much easier. Use our HelloFresh meal deal to save $80 off your first 4 orders with HelloFresh this Black Friday.
Dinnerly: When it comes to fresh ingredients, simple recipes and affordable prices, Dinnerly is the way to go. At just $4.99 per person, Dinnerly is already about as affordable as meals can possibly get. With our new Black Friday Dinnerly deals, you can save $20-$80 off your first 4 orders. These 30-minute recipes will change the way your family eats in a week, and now you can save huge on ingredients!
Sun Basket: Sun Basket offers a wide variety of different diets targeted at people with specific dietary needs. Find diets liker Paleo, Pescatarian, Gluten-Free and more at Sun Basket. Additionally, this Black Friday you can save extra cash on your order with a Sun Basket holiday deal. This week, you can save $35 off your entire order.
Green Chef: Green Chef is another meal delivery service that offers customers healthy ingredients within specific dietary requirements. Flavorful and healthy, Green Chef is a top option for those looking to have creative recipes delivered regularly. Black Friday this year will also see Green Chef reducing prices for hungry, healthy customers. Save $50 off your first order this Black Friday with our new Green Chef promos.
As you can see, Black Friday is not only a great day to buy electronics at great prices... it's also a great time to take advantage of food deals and stock up on good grub! Use our Black Friday meal delivery service guide to hop into delicious recipes and enticing prices. And of course, have a fantastic holiday.
---