Learn More and Compare DJI Drones + Coupons to Save
February 15, 2018 by Eric White
There are many different types of drones to choose from. Leading the pack is DJI. From the Mavic line to the professional Phantom and beyond, DJI has the aerial photography industry on lock.
Before buying a drone, you must know a little about each to help you make your decision. Here we will compare DJI drones and provide some coupons to help you save on your purchase!
Note: for all purchases, we track the best DJI coupon codes for free shipping on orders over $99!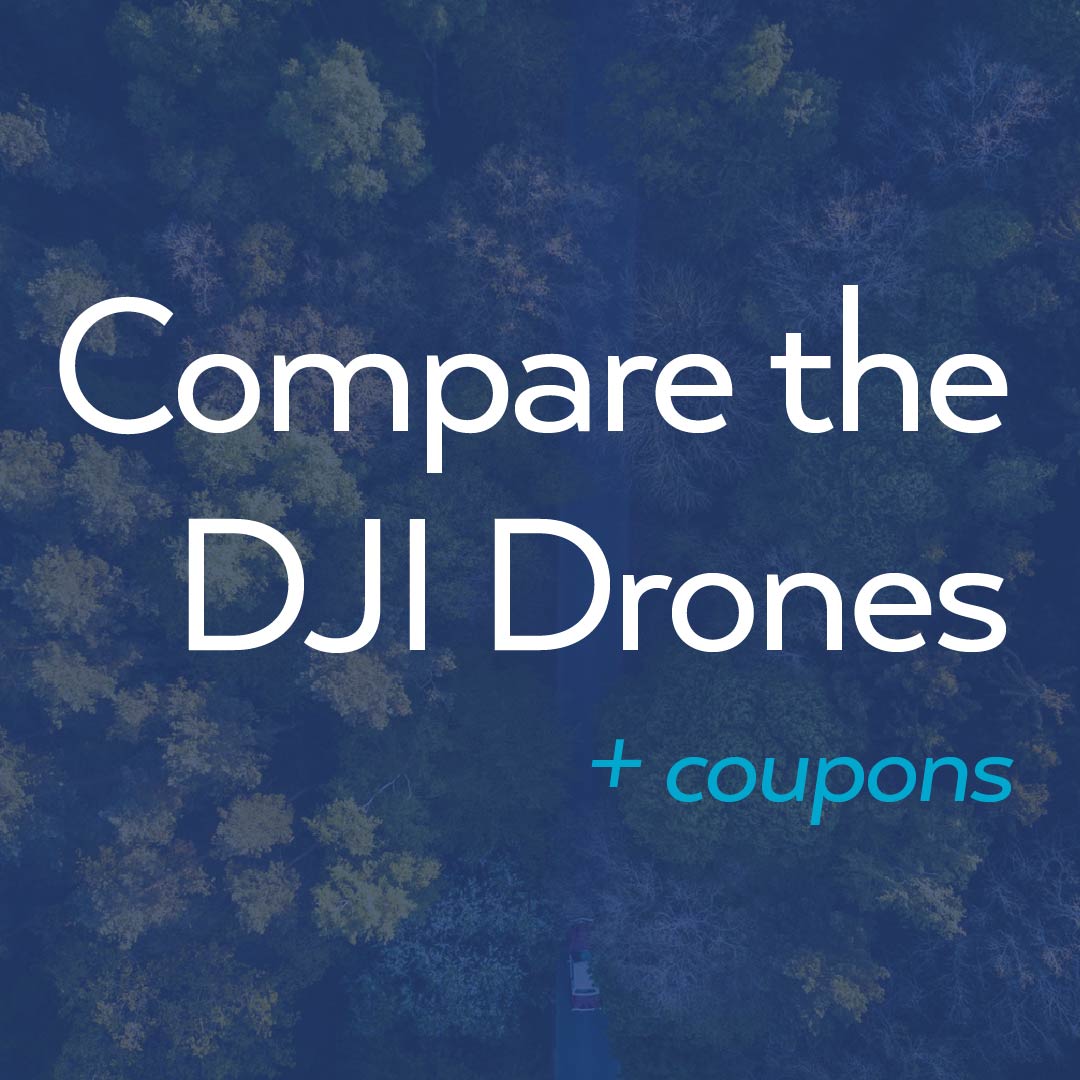 Mavic Air
Price: $799
Distinguishing Features:
4K video at 30 fps
Most compact system
360-degree panorama stitching done on drone processor
HDR photography
21-minute flight time
Improved obstacle seeing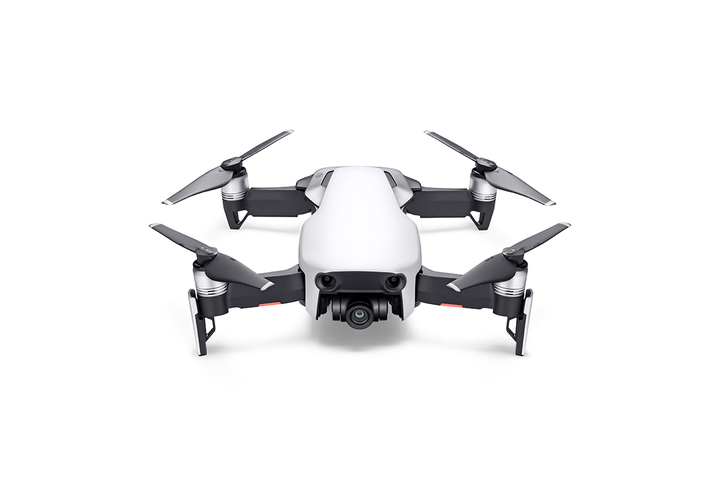 Overview:
The Mavic Air is DJIs newest drone release. In terms of price point and features, the DJI Mavic Air is meant to straddle the capabilities and price of the Spark and Pro. Videographers and photographers who want a foldable, compact, highly capable system that doesn't necessarily have all of the bells and whistles of the DJI Mavic Pro will love the Mavic Air.
Much like the Pro, it features 360-degree panorama capabilities. However, unlike the Pro, all of the stitching of the panorama is done right in the Mavic Air processor. The Mavic Air also shoots full 4K video and takes great looking, wide-range HDR photos.
Users can expect about 21 minutes of flying time. The Mavic Air also features 7 intelligent flight modes like ActiveTrack, Tripod Mode, Cinematic Mode, and more, helping you get exactly the shot you wanted in limited takes. The top speed of the DJI Mavic Air is about 42 mph and it utilizes a 3-axis gimbal.
Use this offer to save 10% off the Mavic Air Fly More combo!
---
Mavic Pro + Pro Platinum
Price: $999 / $1099 for Platinum
Distinguishing Features:
Quieter flights on Mavic Pro Platinum
27-minute flight time on Mavic Pro
30-minute on Pro Platinum
Takes RAW format photos
11 intelligent flight modes
4K video, up to 60 fps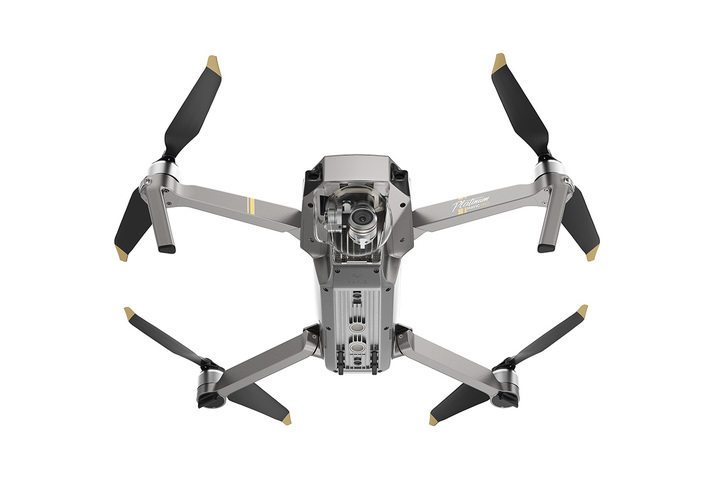 Overview:
Below the Mavic Phantom 4, the DJI Mavic Pro and Pro Platinum are two of the most capable foldable drones you can buy through Mavic. The Pro and Pro Platinum are intended for professionals and hobbyists who want more control and features from their drone.
First, where the Pro and Pro Platinum differ. The main distinguishing features between the Mavic Pro and Pro Platinum is longer flight time and quieter flight technology in the Pro Platinum. Other than that, the two are largely the same with some other small differences you can read about in a more in-depth Pro v. Pro Platinum comparison.
Photographers will love that the Mavic Pro (as we'll refer to both systems from here on out) takes RAW format photos. This makes it much easier to get the colors just the way you want them in post-production.
The Mavic Pro also features a wider range of intelligent flight modes than other systems, making it a more efficient machine. Find modes including Fixed-Wing Mode, Gesture Mode and Terrian Follow on the Mavic Pro. The Mavic Pro also comes equipped with a 3-axis gimbal.
Videographers can shoot 4K video footage on the DJI Mavic Pro at up to 60 fps! You can also take 360-degree panoramas. However, unlike the Mavic Air, you must use a mobile device to stitch the images together.
There are coupons available to help you save on combo packs with extra accessories and things you'll need. This deal will save you $82 off the Mavic Pro Fly More Combo, making the combo only $1299.
---
DJI Spark
Price: $399
Distinguishing Features:
Lowest price point of all DJI drones
16-minute flight time
1080p video recording
5 intelligent flight modes
2-axis gimbal
Obstacle seeing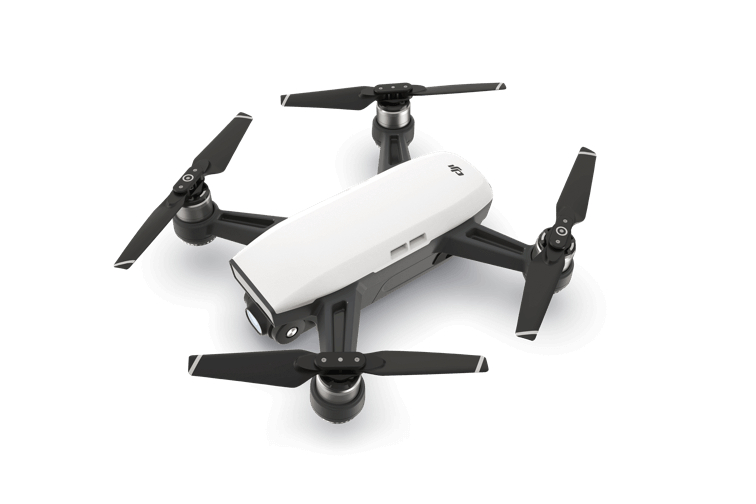 Overview:
The most affordable way to get into the sky with a DJI aerial photography drone is with the DJI Spark. At $399, it is the lowest price point of all the DJI products and is still very capable. It is highly compact and weighs only 300 grams (compared to 430 grams for the Mavic Air). You can actually launch the Spark right from your palm!
For those who are just getting started with aerial photography, the Spark is right up your alley. It comes with 5 basic but effective intelligent flights modes: Advanced Gesture, QuickShot, ActiveTrack, TapFly and Tripod.
The 12 MP camera matches the capabilities of the other drones in the DJI product fleet. It also comes equipped with obstacle seeing, further assisting those first time drone owners. Expect about 16 minutes of flight time from this beginner drone.
If you use this DJI deal, you can get the DJI Spark for $399 AND a free 16GB microSD card.

---
Phantom 4 Advanced + Pro
Price: $1199 / $1499 for Pro
Distinguishing Features:
High speed video transmission from Pro
Obstacle seeing in 5 directions
30-minute flight time from both
4K video up to 60 fps
Mechanical shutter
20 MP camera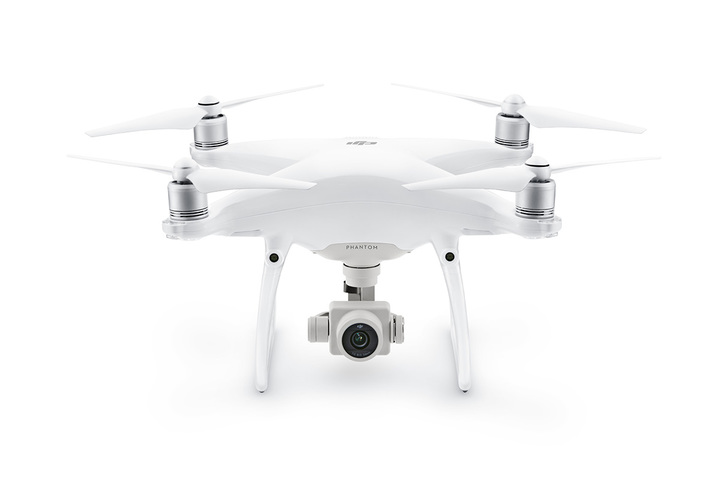 Overview:
For the serious aerial photography professional (or committed hobbyist), Mavic has the Phantom 4 Advanced and the Phantom 4 Pro.
First, the differences between these two. The main differences to pay attention to between the Advanced and Pro are higher speed video transmission with the Pro and more advanced obstacle seeing. The Phantom 4 Advanced has obstacle seeing in one direction while the Pro has 5-direction seeing. There are also differences in the intelligent flight modes offered.
Both cameras come equipped with a mechanical shutter and can shoot 4K video at up to 60 fps. One area of great improvement from the other DJI models is in the megapixels. The other products in the DJI line go up to 12 MP where the Advanced and Pro can both shoot 20 MP images.
---
---