20 Beginner Tips for Extreme Couponing
January 17, 2018 by Eric White
Couponing is a great way to save money on purchases you need and/or want. As with most things, there are many levels to couponing. Casual couponers may only look for deals when they are about to checkout and are a little surprised at their cart total.
The extreme couponer, however, takes couponing to the next level and rarely makes a purchase without the application of some deal, promo code or other offer. Here are 20 Coupon Cause tips for those who want to become an extreme couponer! Or, if you're ready to shop, check out these top coupons currently available.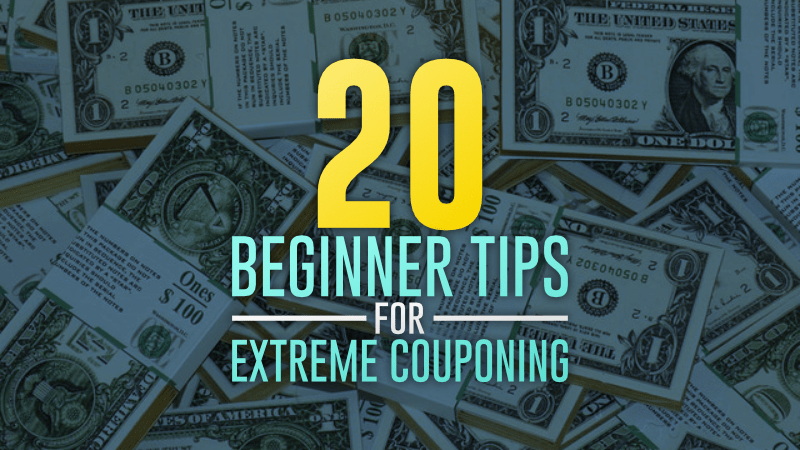 The Extreme Couponing Starter Kit
10 Tips for New Couponers
Make lists.

Lists are essential to proper couponing. When we are in full coupon-mode, it's with a purpose. All of the things that we need are listed in front of us so we don't waste time going down coupon rabbit holes of little real value. Try a service like Wunderlist to help with your list making.

Understand the lingo.

Understanding a new thing begins with understanding the lingo. Be familiar with terms like BOGO (Buy One Get One free), MIR (Mail-In Rebate), OOP (Out Of Pocket) and IP (Internet Printable). Keep an eye out for the top deals on Amazon!

Have the proper tools.

Depending on the type of couponing you are doing, you'll want the proper tools. For using online deals, you'll want a printer. Cutting deals out of the local paper? You'll definitely want scissors. We'll get into some useful deal hunting tools here, but be aware of your medium!

Take your time.

Set time aside to do your couponing if you want to do it proper. Nothing is worse than a half-effort showing.

Stay organized.

Organization is key for effective deal shopping. Use folders or binders for your hard-copy coupons and make Google Drive document and folder to keep track of online coupons. You can then make subfolders for various categories like Electronics, Travel and whatever else you stockpile coupons for.

Download a barcode scanner app.

When shopping in-stores, you'll want a tool that can help you identify the lowest prices quickly and easily. A barcode scanning app can help you see if a product you're seeing is available at a lower cost online. Barcode Scanner is a solid option!

Know the policy before you go.

As shoppers, we often shop under the assumption that employees know the minute details of the deals we want to use. However, that's sometimes not the case. Become familiar with the details of your offer and the store's policies regarding coupon usage before going.

Sign up for mobile alerts.

Many stores and brands now have apps available on both Apple and Android. Downloading the apps of your favorite stores and signing up for mobile alerts is a great way to stay up-to-date on the latest deals that store has to offer.

Buy online.

This one isn't universal, but generally speaking, you can find it cheaper online. Take advantage of local deals but always rest assured that the internet has your back. The following Usual Wine offers are relatively common types of offers you'll find when shopping online:


Verified

Details:

Ongoing Offer

Click "Show Coupon Code" To Activate This Deal. Exclusions May Apply

$10 Off Any Order

Verified

Details:

Ongoing Offer

Click "Show Coupon Code" To Activate This Deal. Exclusions May Apply

$8 Off Your First Order

Bookmark favorites.

A key to staying organized when shopping with online deals is bookmark your favorite sites for finding those deals. Whether it's a site like Coupon Cause (wink, wink) or any one of the many couponing, daily deal or local offers websites, make sure you keep track of the ones that regularly hit it big for you!

Check the local paper.

Online news has certainly helped decline newspaper readership. But guess what? There's gold in them pages! Newspapers are still one of our favorite places to find local deals and offers.

Read the fine print.

The fine print is where they'll get you! Just kidding. No one is out to get you. But it is important you read the fine print of your offer and know what exactly it is you're being offered before claiming it. This goes back to #7.

Sign up for cash back programs.

Cash back and loyalty programs are a solid way to consistently earn savings at the places you already love to shop. As an extreme couponer novice, you may be eager to simply chase the deals. But we'd be willing to be that the places you already buy from have simple ways you can rack up rewards and save money.

Buy smart.

What we really mean is, don't just buy something because you have a coupon for it. Unless you have a master plan like this guy.

Price match AND coupons.

Price matching is a great way to save money through comparative shopping. Sometimes, you have the ability to price match AND use a coupon. This most often happens in-store and when it does, we hear an angel gets its wings.

Download a browser plugin.

There are so many ways to save money shopping online. Download a browser plugin to help alert you to deals that are available on the pages you visit. Our favorite deal hunting plugin is Honey. We love how it even compares product prices in our Amazon cart!

Don't forget about rebates.

Rebates are an often overlooked way to save money on purchases and often forgotten after the purchase is made. Be a good extreme couponer and pay your respects to the rebate, one of our oldest forms of couponing.

Download a couponing app.

Like browser plugins, couponing apps help you find the best deals on the go. The Huffington Post has listed 7 of their favorite coupon apps in this blog.

Follow Coupon Cause on social media.

Don't let it's position on our list of extreme couponing tips for beginners fool you! Following Coupon Cause on social media is a great way to find coupons and also stay up-to-date with relevant news and posts. Try Coupon Cause Facebook or YouTube for starters.

Ask.

Simply asking for deals in-store proves time and time again to be a great way to find them. Don't be shy!
---
---