Father's Day Gift Guide 2019
June 5, 2019 by Aubrey Meister
Father's Day is right around the corner! It's time to show your appreciation for your dad, grandfather, or the father figures you may have. Do you know what you're gifting the dads in your life? To help you get started, we've put together a list of gift ideas for Father's Day.

Here are 10 great gift ideas for the dads in your life. Visit our Father's Day 2019 coupon page here for even more great deals for dad! If you need a last minute gift, here are some Father's Day gifts with overnight shipping.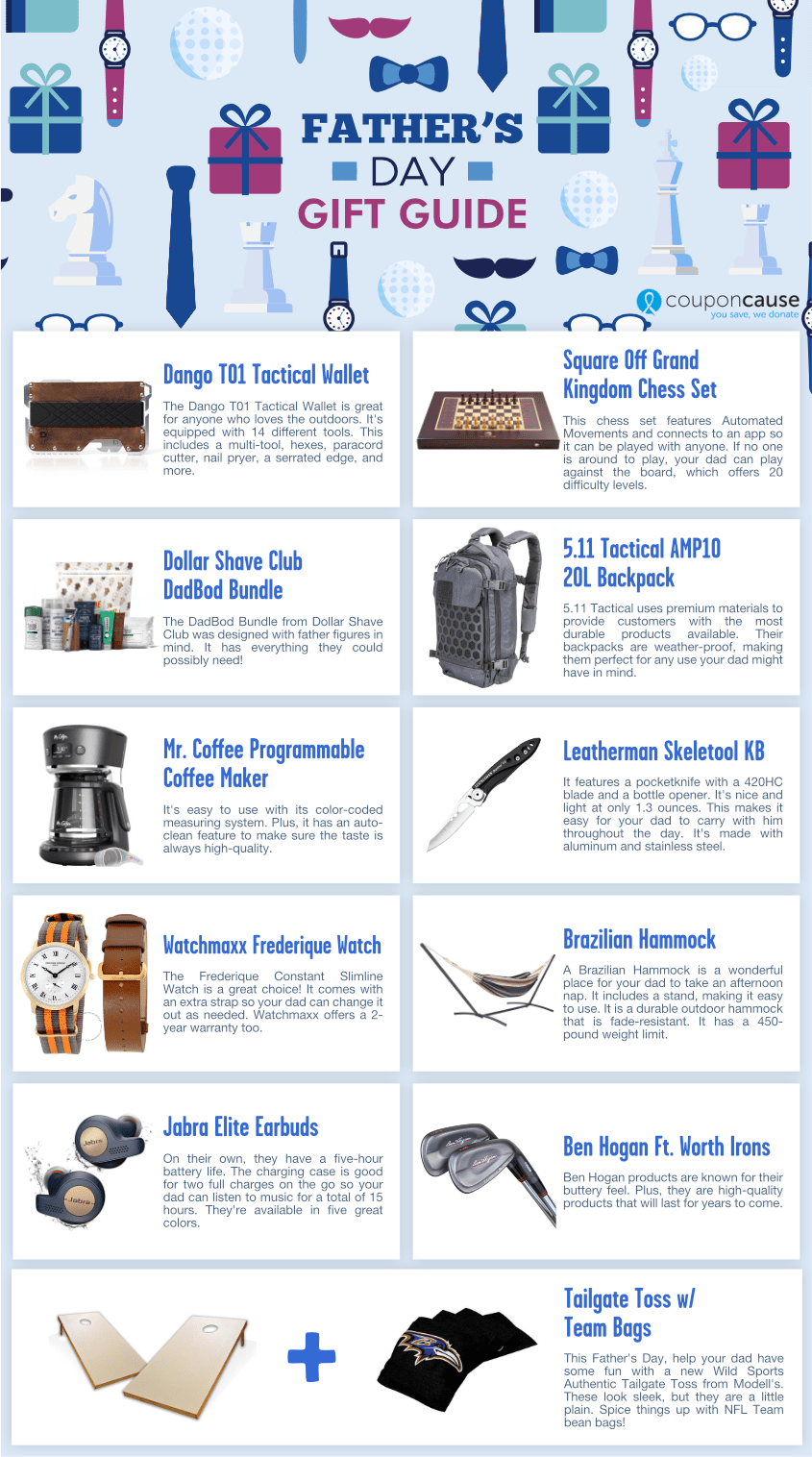 Gift Ideas for Father's Day 2019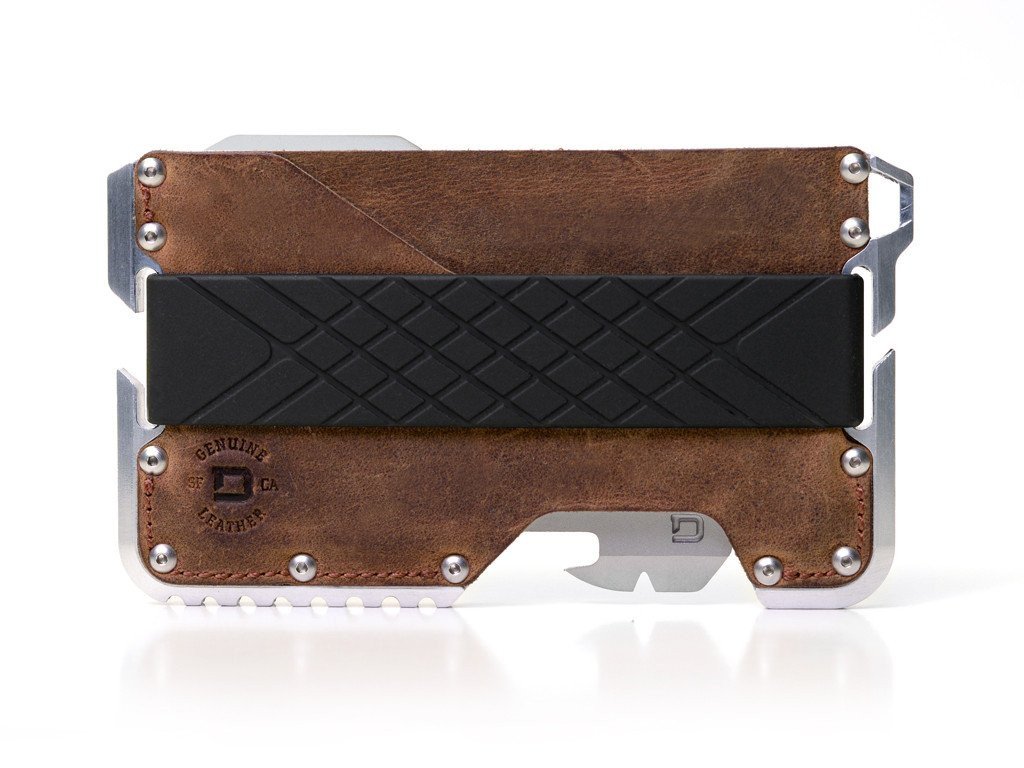 Would your dad like a new wallet? The Dango T01 Tactical Wallet is great for anyone who loves the outdoors. It's equipped with 14 different tools. This includes a multi-tool, hexes, paracord cutter, nail pryer, a serrated edge, and more. Even though it has all of these features, it isn't bulky.

Price: $89.00

Check out these new Dango Products coupon codes you can use to save on Father's Day gifts this year:
---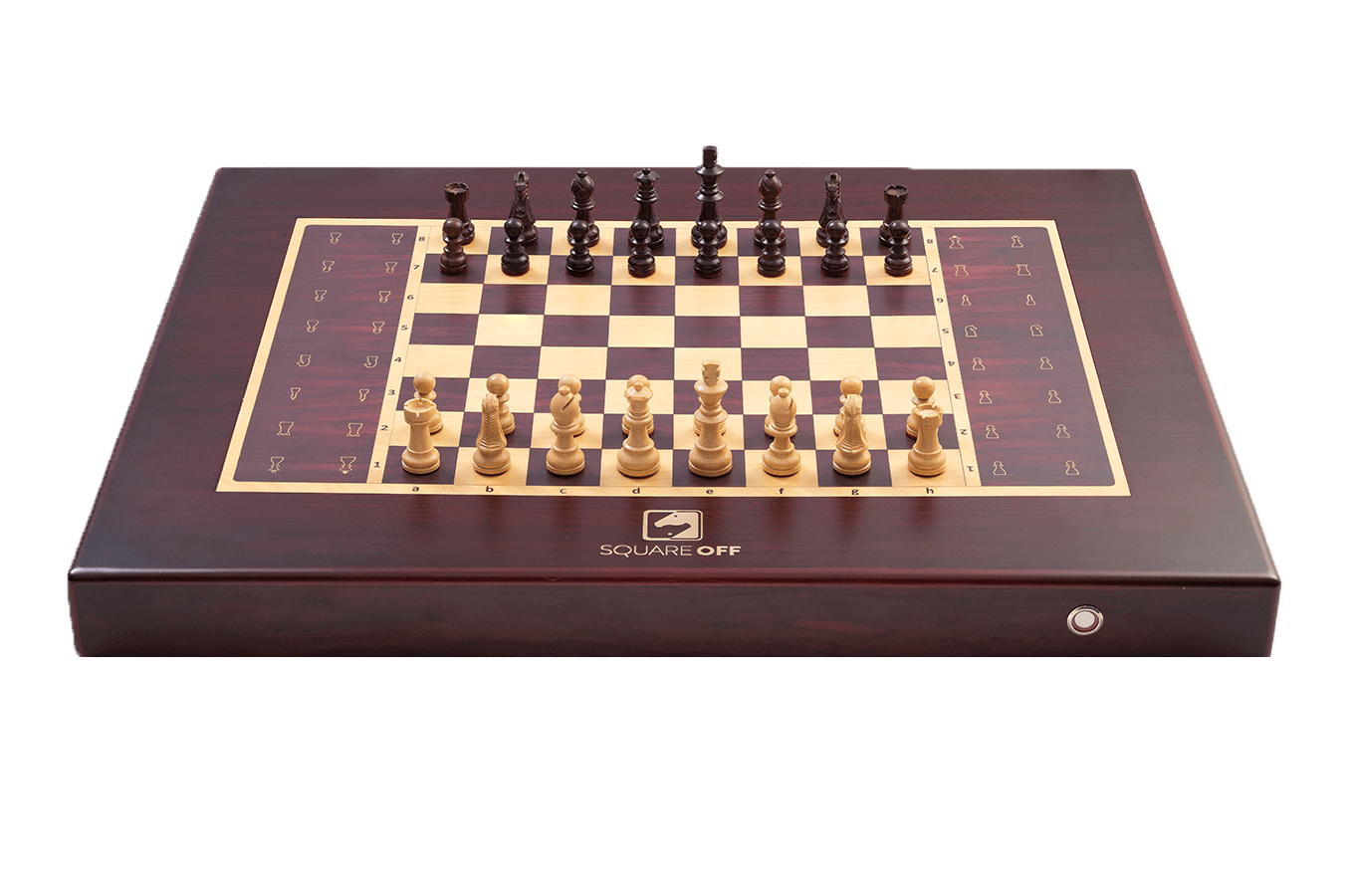 2. Square Off Grand Kingdom Chess Set

If your dad enjoys chess and other games, the Square Off Grand Kingdom Chess Set is for him. This chess set features Automated Movements and connects to an app so it can be played with anyone. If no one is around to play, your dad can play against the board, which offers 20 difficulty levels.

Chess boards from Square Off are handcrafted with care and absolutely beautiful. The Grand Kingdom Chess Set's board has a rosewood finish.
Price: $449

Our selection of Square Off discount codes are exactly what you need to save extra money on this sophisticated chess set:
---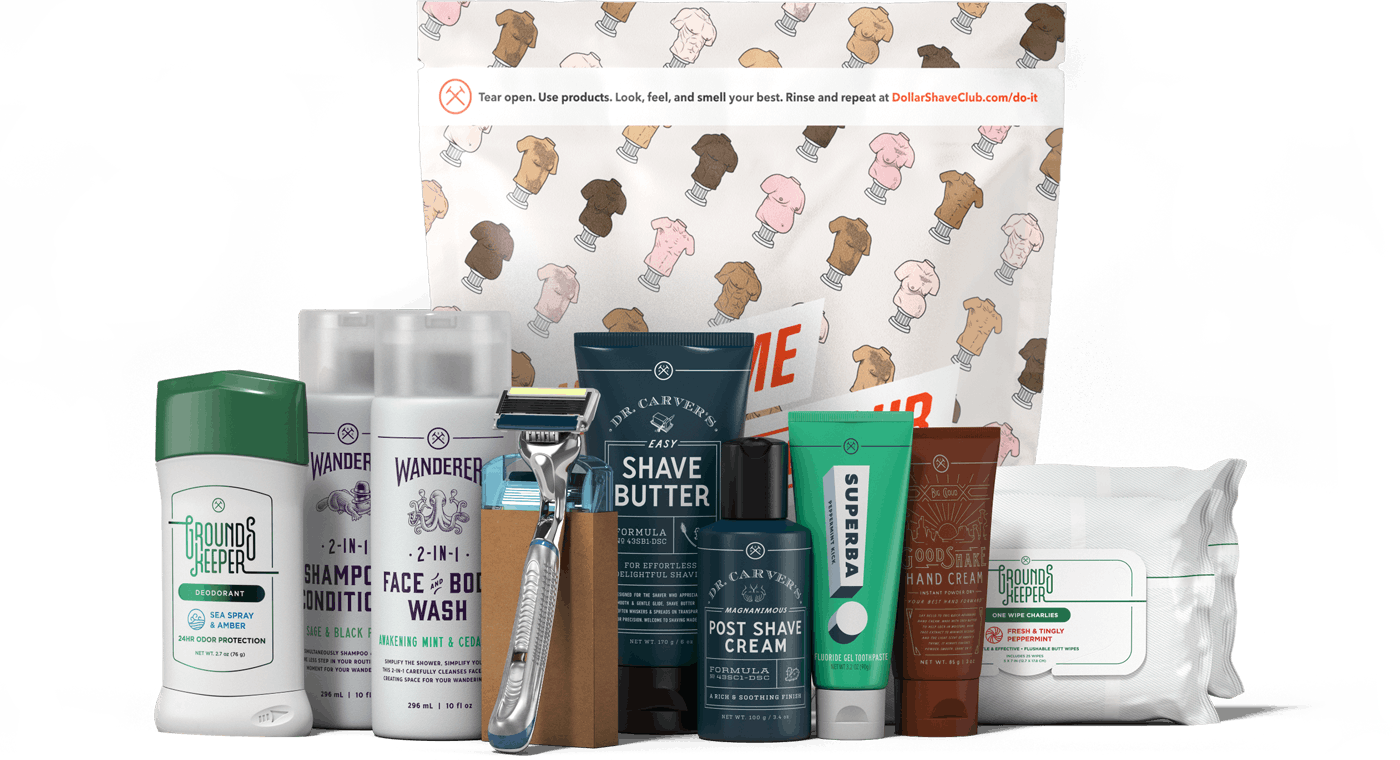 3. Dollar Shave Club DadBod Bundle

The DadBod Bundle from Dollar Shave Club was designed with father figures in mind. It has everything they could possibly need! When you order this gift set, you can choose where you'd like it shipped. It will be delivered in 5-7 business days. This set includes:

Executive Handle (1 ct.)
Post Shave Cream (3.4 oz.)
Hand Cream (3 oz.)
Shave Butter (6 oz.)
Razor Cartridges (4 ct.)
Gel Toothpaste Travel (3.2 oz.)
Face & Body Wash (10 oz.)
Shampoo & Conditioner (10 oz.)
One Wipe Charlies (50 ct.)
Deodorant (2.7 oz.)
Dollar Shave Club has several other gift sets available as well. Not sure which gift set is right for your father? Dollar Shave Club offers e-gift cards so he can pick out exactly what he wants.
Price: $50
Eager to save? You can try pairing a new Dollar Shave Club discount code with your Father's Day gift to save:
---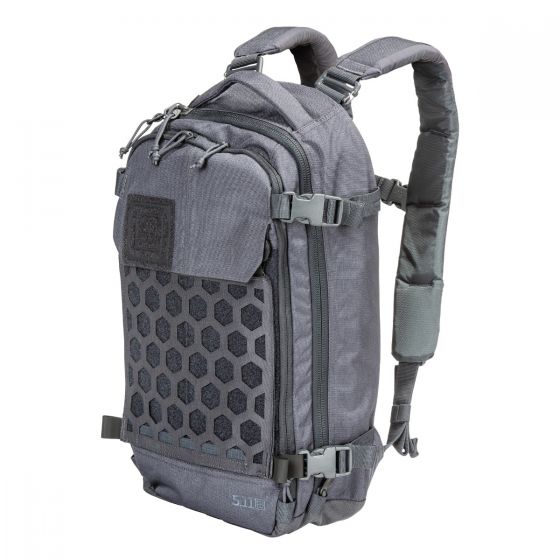 4. 5.11 Tactical AMP10 20L Backpack

The 5.11 Tactical AMP10 20L Backpack is a great gift for any dad who's on the go. It works for travel or everyday use. This backpack comes in several colors. It also features plenty of organizational pockets so your dad can easily find what he's looking for.

5.11 Tactical uses premium materials to provide customers with the most durable products available. Their backpacks are weather-proof, making them perfect for any use your dad might have in mind.

Price: $169.99

We have a variety of 5.11 Tactical Series promo codes you can take advantage of this summer:
---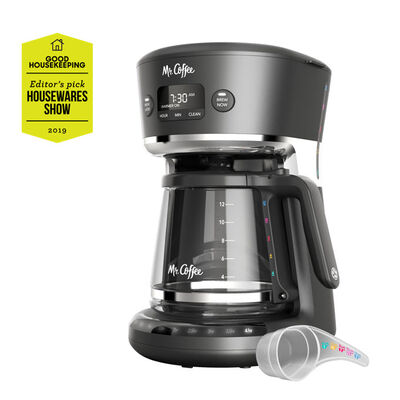 5. Mr. Coffee Easy Measure 12-Cup Programmable Coffee Maker

Is your dad a coffee-drinker? Want to help him get an even better start to his day? This Father's Day, upgrade your dad's coffee maker! The Mr. Coffee Easy Measure Coffee Maker makes every morning a little simpler. It's easy to use with its color-coded measuring system. Plus, it has an auto-clean feature to make sure the taste is always high-quality.

Price: $49.99
Before making your Father's Day purchase, check out our selection of Mr. Coffee coupon codes, like these:
---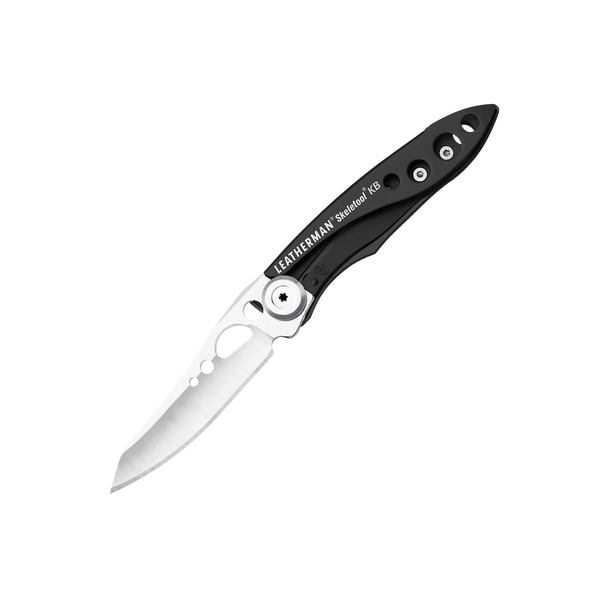 It's time to give your father a pocketknife upgrade with the Leatherman Skeletool KB! It features a pocketknife with a 420HC blade and a bottle opener. It's nice and light at only 1.3 ounces. This makes it easy for your dad to carry with him throughout the day. It's made with aluminum and stainless steel.
Price: $24.95
New Leatherman coupons available at CouponCause are perfect to help you save money this Father's Day:
---
7. Watchmaxx Frederique Constant Slimline Watch

If your father is into luxury watches, why not pick out a new one for him? Watchmaxx offers a wide range of watches. The Frederique Constant Slimline Watch is a great choice! It comes with an extra strap so your dad can change it out as needed. Watchmaxx offers a 2-year warranty too.

Watchmaxx offers sport, fashion, and dress watches. You can choose a watch that works best for your dad's lifestyle and fashion sense.
Price: $195
Watchmaxx coupon codes are always available for your use! Try these:
---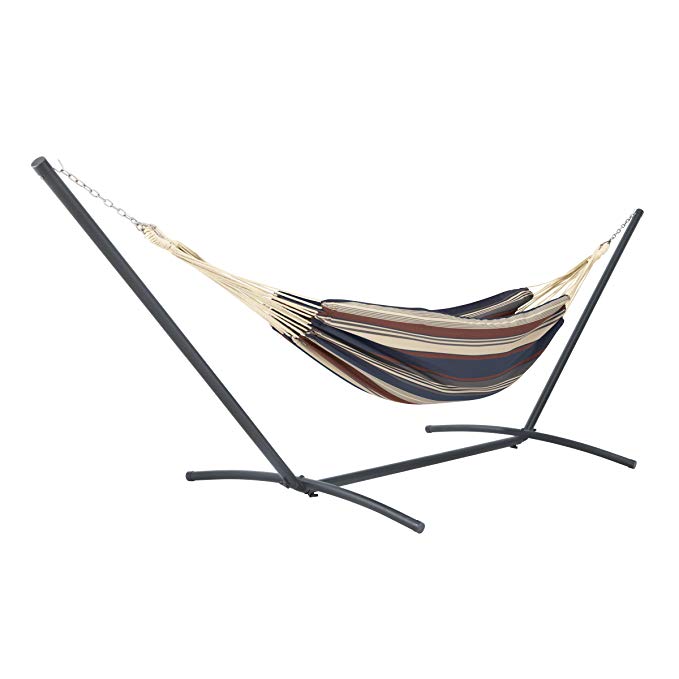 8. Brazilian Hammock with Steel Stand

Some dads are known for their ability to sleep nearly anywhere. A Brazilian Hammock is a wonderful place for your dad to take an afternoon nap. It includes a stand, making it easy to use. It is a durable outdoor hammock that is fade-resistant. It has a 450-pound weight limit.

You can find this hammock in several different colors on Amazon so you can select the one that your dad will like most!

Price: Varies by color
Amazon coupon codes available here at CouponCause can help bring down the cost of many Amazon orders!
---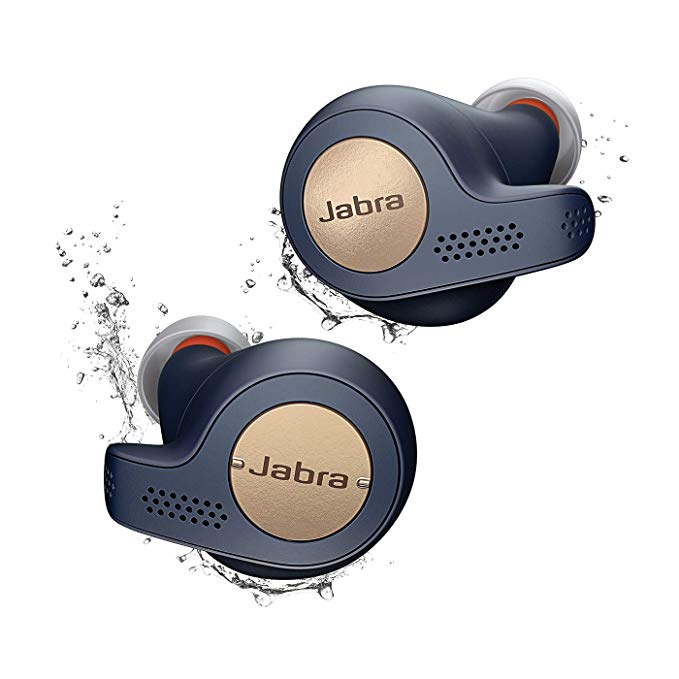 9. Jabra Elite Active 65t Wireless Sports Earbuds

Whether your dad is a fitness enthusiast or just likes to listen to music, the Jabra Elite Active Earbuds make an awesome gift. They were designed with an active lifestyle in mind. Jabra includes a 2-year warranty against dust and sweat. These earbuds offer music, calls, and fitness tracking.

On their own, they have a five-hour battery life. The charging case is good for two full charges on the go so your dad can listen to music for a total of 15 hours. They're available in five great colors.

Price: $189.99
---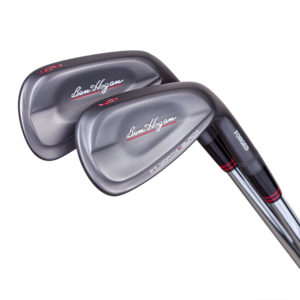 If your dad is a golfer, look no further than Ben Hogan. The Ft. Worth Irons from Ben Hogan will make a great addition to your dad's collection. Ben Hogan products are known for their buttery feel. Plus, they are high-quality products that will last for years to come.

Ben Hogan offers a range of irons, wedges, woods, and putters. They also have bags and accessories to choose from, which would make the perfect gift for a golf-loving father.
Price: $700 for white, $735 for black

Help your dad swing into that low score this summer with Ben Hogan coupons:
---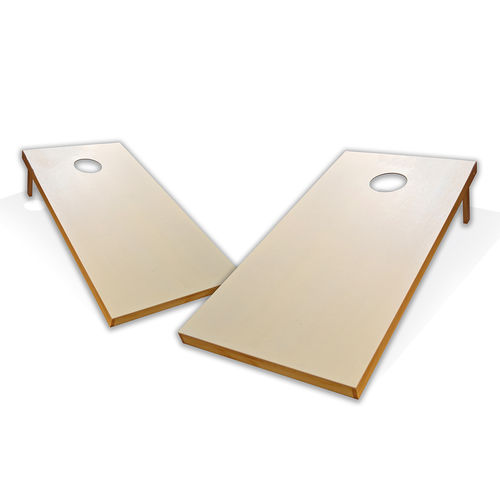 11. Modell's Authentic Tailgate Toss w/ Team Bags

Here's a two-parter Father's Day gift for the truly devoted son, daughter or wife. Cornhole is a classic game that can be played to wide amusement at family gatherings, barbecues or tailgates. This Father's Day, help your dad have some fun with a new Wild Sports Authentic Tailgate Toss from Modell's.
These look sleek, but they are a little plain. Spice things up with NFL team bean bags! Here are some fun Baltimore Ravens bags for the dirty birds.
Price: $99.99 + $24.99

Try using these Modell's Sporting Goods coupons to save on this special Father's Day gift:
---