Here's Why I Became a Fabletics VIP Shopper
September 3, 2019 by Angie Long
For me, workout clothes are hit or miss. Depending on the brand, the size and fit can be inconsistent, and I never really know how something is going to fit until after I work out in it. It can be frustrating to spend any amount of money on something without knowing how comfortable or flattering it is, and then just letting it sit in your drawer until you come to terms with the fact that it was a waste of money.
After going through this a few times, I came across Fabletics in an online ad and gave it a try - but with a bit of skepticism. I've been a fan of the brand ever since.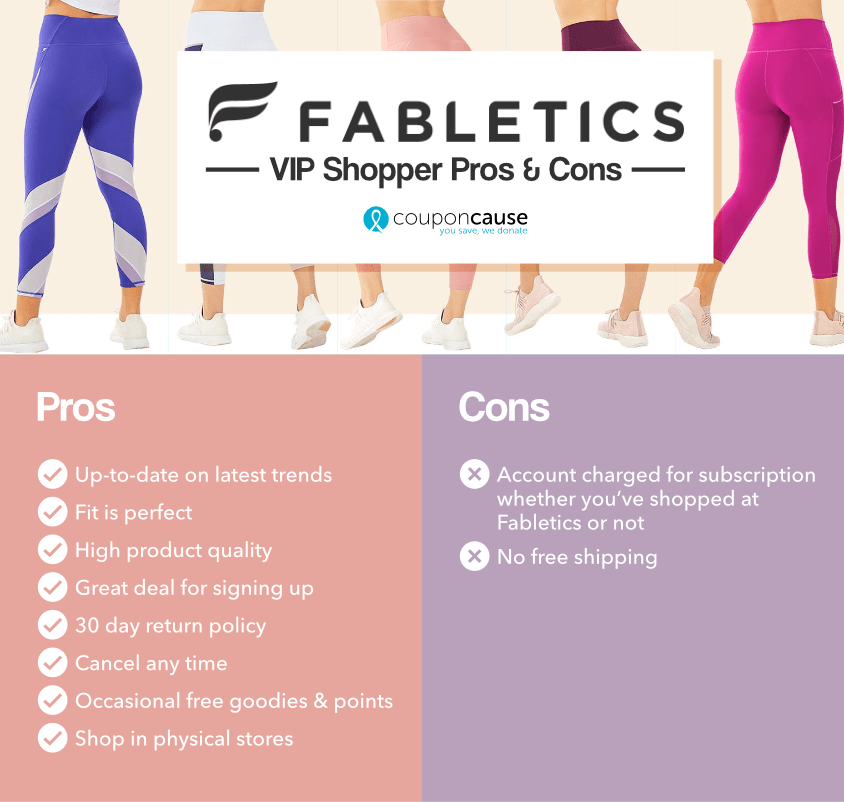 What is Fabletics?
Fabletics is an athletic-wear company co-founded by actress Kate Hudson to inspire women to live active and healthy lives (according to the company's website.) Honestly, that little spiel meant nothing to me at first, as I don't care to make any actress more wealthy than she already is. But when I looked, the outfits were too cute to pass up, and the prices were catered toward lowly peasants like me instead of the rich and famous. So I took the bait.
Check out these Fabletics coupon codes to save on your orders:
Details:
Ongoing Offer
Get $5 off your order of $30 or more
$5 Off $30+
EXTRA5OFF012016
Show Code
Details:
Ongoing Offer
No Promo Code Needed. Click "Get Offer" To Activate This Deal. Exclusions May Apply
2 Leggings for $24
How Fabletics Works
It isn't rocket science, but here's how to order from Fabletics, whether you want to be a VIP member or not:
1. First, you take a quick quiz to see what type of outfits work best for your lifestyle and your workouts.
2. Then you decide whether you want to become a VIP. If you do, your only obligation is to shop or skip by the 5th of each month.
3. Regardless of whether you want to be a VIP, browse the items recommended for you and in your size (new items each month), order what you like and wait for it to arrive in the mail.
4. Try everything on, kick butt in it, and if you don't like it - return or exchange it within 30 days.
What I Love About Fabletics
There's a lot that I love about Fabletics, but here it is in a nutshell:
Fabletics is always up-to-date on the latest trends, and they're timeless too. In their clothes, I feel good about myself when I work out, and it makes me want to go to the gym.
The fit is perfect. Not too big, not too small.
The quality of their products is great, especially for the price. I've never had a problem with any of my items (unlike with some other more expensive brands that sell see-through leggings).
When you become a VIP member, you get a really good initial deal. Right now you can get two pairs of leggings for $24, which is normally a $99 value. Or you can choose a whole outfit for just $19.
If you're not fully satisfied with your purchase, you can return it or exchange it as long as it is within 30 days.
You can cancel at any time.
You get free goodies for being a loyal customer and racking up points.
There are actual physical stores across the country, so if I don't want to shop online, I can pop in and get the same benefits I have online as a VIP member.
What I Don't Love About Fabletics
I hate to say it, but in the interest of honesty, there are two things that I don't love about Fabletics:
Being a VIP member, I have to remember to either shop or skip the month before the 5th of each month to avoid the $49.95 credit being charged to my account. But if I forget, I don't mind because it gives me an excuse to use the credit when new items for next season are made available. You also get a reminder email.
Shipping isn't free unless your order is over $49.95. If it is lower, you pay $4.95 for shipping. I sort of feel like VIPs should get free shipping, but I typically spend more than the minimum when I shop, so it really isn't much of an issue.
Fabletics is part of a group of other brands that offer subscription-based memberships: JustFab, Shoedazzle and FabKids. I have to be honest in that I tried two of the others wasn't blown away like I was with Fabletics. I've since learned that investing in quality workout clothes doesn't mean breaking the bank, and I still wear the first two items I got in my original shipment over three years ago.
---