​Memorable Gifts from Things Remembered
June 15, 2022 by
If you're looking for a gift for Father's Day or wedding, or other life event, Things Remembered has some pretty memorable gifts.

The store is a part of my childhood. I remember the local Things Remembered store at the mall. It had sterling silver cake platters and baby spoons and engravable pocket watches. And I'm quite sure that one year I bought my parents a photo album there, with the front frame cover engraved in copperplate font.
In the throes of summer gifting season (Father's Day, graduation parties, baptisms, and weddings), I visited ThingsRemembered.com to explore their goods. For this post, I received and reviewed several items that are giftable for Father's Day and other special occasions.
First off, you may be surprised by what Things Remembered sells. It's not just etched champagne glasses and engraved flasks. It's gifts for any special occasion that you can think of, with the option to personalize them with a custom monogram or engraving.
Here's my review of several gift items from the store: a canvas all-purpose bag, acrylic photo frame, charm bracelet, pocket watch, and jewelry box.
I deliberately chose what I thought of as more atypical Things Remembered gifts because my household isn't into cheese platters and whiskey decanters and fancier fare. I wanted to choose everyday things that were still giftable for many different occasions.
1 | Canvas Amour Tote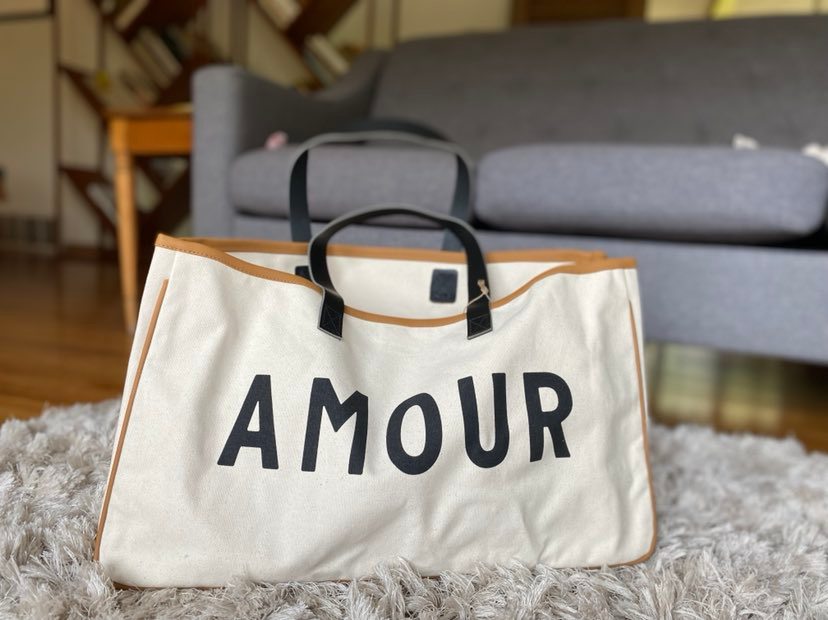 This tote bag is ample in size, with measurements of 20" x 11" x 6". It's touted as a "Hold Everything" bag, and it looks large enough to hold pretty much everything. I've used it as a multi-purpose tote when running errands, and today as a laptop bag at the office.
Pro's:
It has a beautiful, minimalist design.

I love the simple, modern typography.

The word "Amour" (Love) makes it giftable for any occasion you can think of. It would even be a lovely hostess gift.

The bag holds its structure when empty. It has a large, wide flat bottom.
Con's:
While it's ample in size, the shoulder straps limit what you could comfortably hold. For example, I wouldn't carry heavy textbooks in this bag.

The tan trim and black straps are not real leather. The handle is obviously faux leather and the tan trim looks like a vinyl material of some sort.
Overall, I think it's a very pretty, all-purpose tote that looks durable.
2 | Clear Acrylic Photo Frame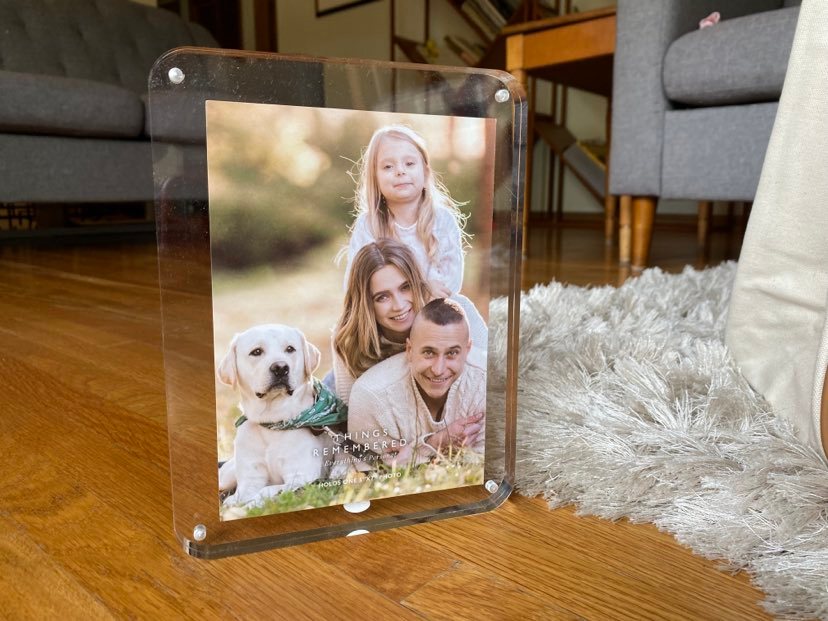 This is a sturdy picture frame where you can easily display a favorite photo atop a table or desk. This might be my favorite gift from the bunch.
Pro's:
It's clear, minimal, and modern looking.

It closes together magnetically - it's easy to put a picture in or out. No need to tape anything in place.

Rounded edges. No need to worry about sharp corners and little people rough-handling it.

It stands upright - no arm required.

Choose from landscape or portrait orientation options.
Con's:
The magnetic points to close the frame could be a bit stronger.
There's no reason why a picture wouldn't stay in place there. But if you have a little one who takes an interest in this object, they could easily open it and mar the photo.
BUY Clear Acrylic Photo Frame for $20-$25 (4x6 or 5x7 size)
3 | Gold Link Heart Lariat Bracelet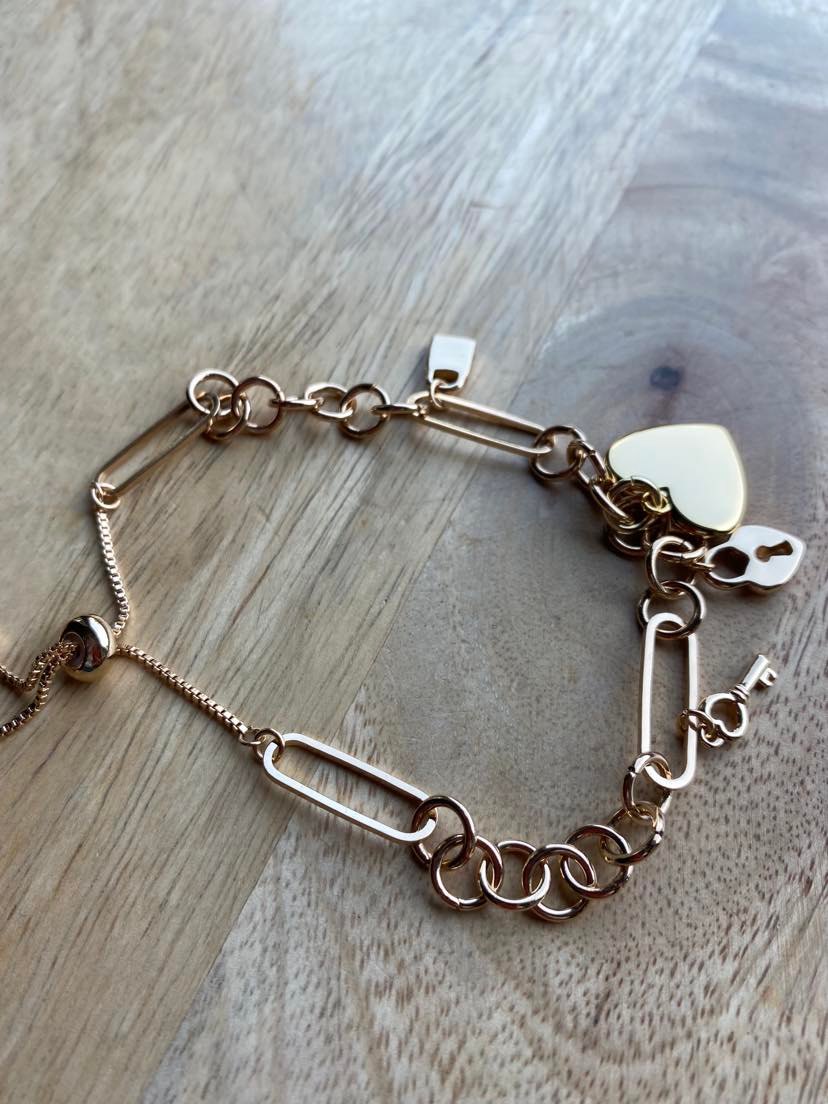 Some goods online don't live up to their online photo hype. But this charm bracelet does. It's sturdy yet elegant looking. Many charm bracelets are flimsy, or prone to easily knotting because it's a single gold strand chain. This gold-plated charm bracelet has solid chain links.
Pro's:
I would wear this bracelet with jeans and a tee, or if dressed up to go out for dinner.

It is durable and has thick chain links that can easily accommodate lots of charms.

The gold color is a nice touch.



Con's:
It's not real gold or real precious metal. It's a fun bracelet, but not an heirloom. It's a fun gift for Mom or Auntie to wear charms, but at some point, an upgrade will likely be needed.

Some reviewers state the gold finish flakes off. (Only a few; most of the reviews are positive.) I have only had the bracelet for a few days and have not experienced this, but something to be aware of.

If you have small wrists as I have, this will be a bit loose.
BUY Gold Link Hearted Lariat Bracelet for $30
4 | Skeleton Memento Pocket Watch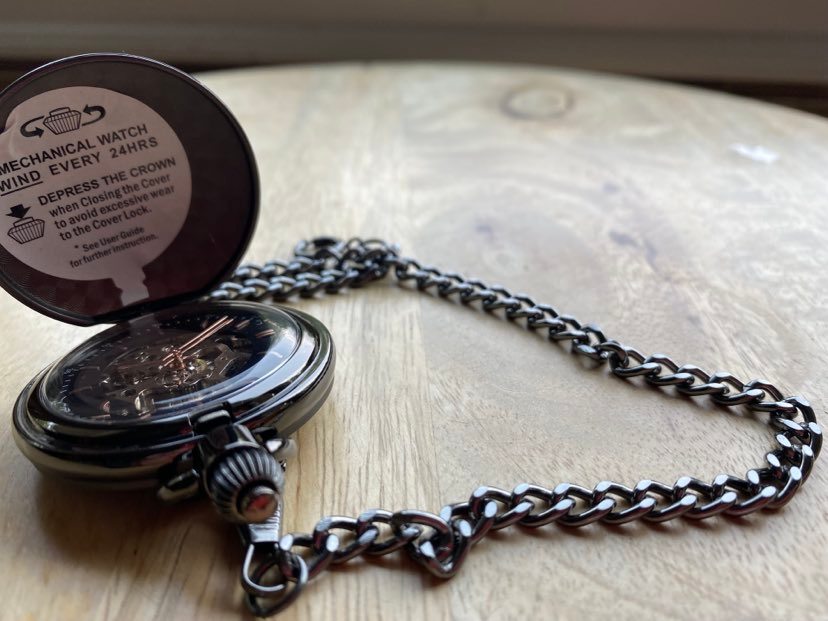 My husband loves maps and watches. He appreciates antiques and analog tools. With him in mind, I ordered the Skeleton Memento Pocket Watch.
Pro's:
It's got old-world charm.

It's customizable, although I did not get my watch engraved.

You can add a photograph to the inside case for personal flourish.
Con's:
The watch cover looks like plastic - which may or may not be a deterrent for you. (Product details indicate the front-of-watch material is zinc alloy and steel.)

I didn't love the presentation box. Specifically, I didn't love the thin velvet-covered cardboard insert.
Overall, the watch is a nice Father's Day gift and I will be gifting it to my husband. However, I plan on wrapping it in tissue. You may really love the presentation box though, and there is an option to have the lid engraved.
BUY Skeleton Momento Pocket Watch for $99
5 | Pink Ballerina Jewelry Box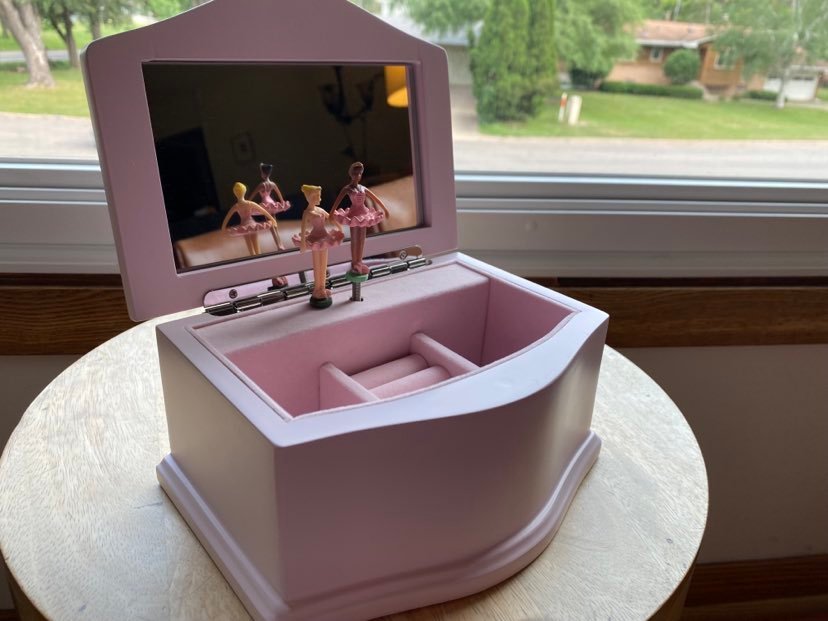 I bought this pink ballerina jewelry music box for my little girl, and I'm confident she will love it. It's perfect for little ones who love playing dress-up princesses and fairies. The box opens to reveal a plush, velvet-lined interior with two deep pockets for treasures. A ballerina twirls to the tune of Swan Lake.
Pro's:
It's an insanely cute gift with a fun tune for little twirlers.

It comes with two ballerinas, a blond-haired one or a dark-complexioned, dark-haired one.

It opens and closes smoothly and easily, without any clanks or thuds.
Con's:
The silver engravable heart, on the exterior music box lid, could come loose. The heart is affixed with 3M adhesive tape.

The ballerina does not attach securely. It could be the particular music box I received, but the ballerina does not stay in place when you close the box. You have to place it atop its metal perch every time you open the box. I may try to glue it on, but I'm not sure how that could impact the spinning mechanism.
This is a really adorable music jewelry box that any little girl would love. It's built for children to store plastic jewelry, sticker earrings, and other small treasures.
BUY Girls Pink Musical Jewelry Box for $55
You can earn cash back towards nonprofits when you shop at Things Remembered from the link on CouponCause. Feel good by doing good with your purchase. There's free shipping with purchases of $75+, and new customers can save up to 15% off when signing up for their email newsletter.
---
---