Mia Belle Girls: Review of Holiday Wear
November 21, 2022 by Stacy Garrels
When scrolling through social, you've probably already stumbled on Mia Belle. Maybe it was the image of that little girl, wearing a tweed blazer and pleated skirt and a pensive Grace Kelly gaze. Or the mom and toddler daughter in matching gold floral maxi dresses.
Mia Belle is making big waves in the little girl fashion world, offering eye-popping styles with Southern charm. Ruffles. Tulle. Lace. Dresses that go poof. And loads of mini-mom whimsy.
The brand's goal is to make it easy for moms to create adorable outfits that fit every occasion on a little girl's social calendar. From picnics at the beach to beauty pageants, and everything in between, Mia Belle makes what little girls wear.
All for $52.99 or less. And a big bonus saings off first orders.
I GOT A HOLIDAY OUTFIT FROM MIA BELLE
Looking at a string of upcoming holiday parties for my 4-year-old daughter, Margot, I decided now was the right time to check out Mia Belle.
Mia Belle Girls sent her the Joy To The World Plaid Suspender Skirt Set for me to review. It's priced at $34.99 on the website, but with the Black Friday sale and first-order coupon codes, you could order this ensemble for around $22 or less.
It's a cute, festive ensemble. The garment matches the product images. The cut and colors are spot-on.
GARMENT QUALITY
The plaid skirt with suspenders is a brushed poly knit fabric. The green Joy to the World top is a cotton-spandex blend. The skirt feels soft, thick, and durable. The tee feels a bit thin and there were some wrinkles that had set in from the packaging.
It was easy to take out the wrinkles with a garment steamer, but I'm not sure about using an iron over the raised white letters. While a toss in the dryer often does the trick, the care labels on both garments say to wash in cold water and line dry.
GARMENT STYLE
The plaid suspender skirt set is on-season and on-trend. You see the tee's typography style everywhere.
And while I think the outfit feels very girly and feminine (all those ruffles), it's one of Mia Belle Girls' more casual outfits. Most Mia Belle looks have a lot more detail: more crinoline, more bows, more vavavoom panache.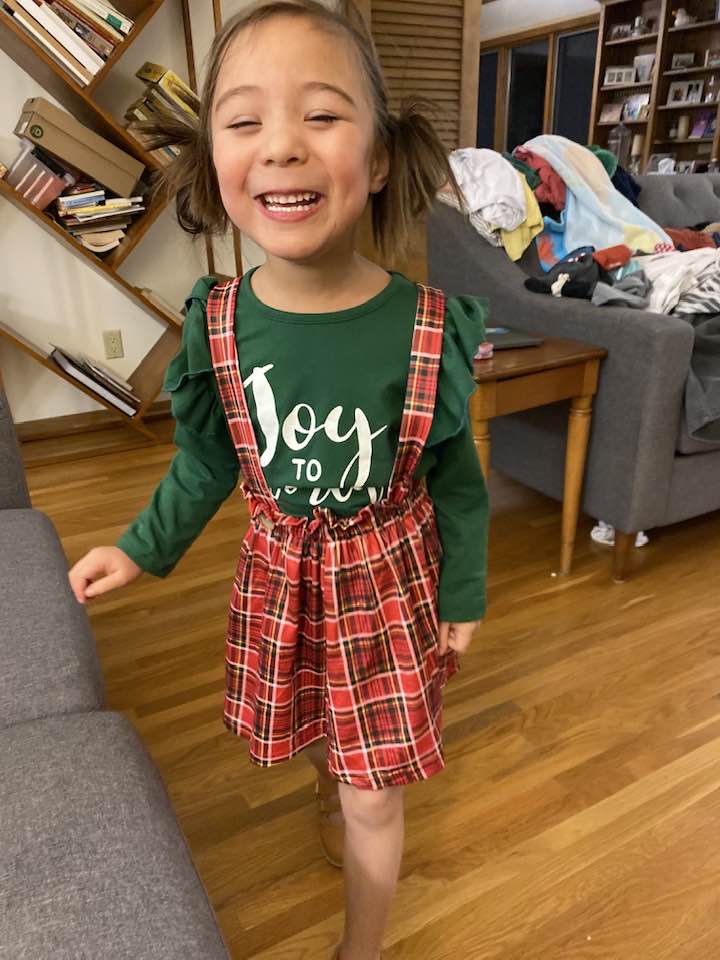 >>> Shop the Joy to the World 2-Piece Outfit on Mia Belle Girls.
PROS AND CONS
Since this is a review, let's get into the pros and cons.
PROS
+Cute and festive
+Holiday perfect colors - just the right shade of green
+Party-ready - dressy enough for parties and special holiday moments
+Versatile - dressy but still casual enough for everyday wear
+Top and skirt can be mixed and matched with other garments for added wearability
+Relatively affordable
+Lots of coordinating options for mom and siblings
+My daughter loves the outfit
CONS
-Not for cold Northern winters - my daughter will have to wear quite a few layers to leave the house in this outfit, including a sweater or cardigan that might hide the words on the shirt
-Joy to the World tee is a bit thin
-The waist needs to be re-adjusted continually for the letters to show
-Garment care - line dry only and I prefer garments that can go in the dryer
-Sustainability - garments not made from sustainable materials
BOTTOM LINE
This Mia Belle girl's ensemble is a cute, go-to outfit for the holiday season. It's dressy, but not fussy so it can see a lot of wear. Taffeta and lace are beautiful, but a bit too dainty for muddy puddles and juggle gyms. Those fabrics tend to live in closets, gathering dust, and I like clothing that can handle the everyday grind. Versatility is a big point in this outfit's favor.
But the biggest point in favor of this holiday set: my daughter loves it. She's a fan of the suspenders, the twirls, and the color red. Holidays can be high-stress enough. A cute and cozy outfit can go a long way in keeping the mood jolly.
---
---