PupBox vs BarkBox vs BullyMake: Which is the Best Subscription Box for Dogs?
May 21, 2019 by Angie Long
Subscription boxes are highly popular these days for people who like treating themselves to things they may not be able to find in stores. Why should it be any different for dogs? They're family, after all, and they're by our sides through thick and thin. Dogs need more than just the basic necessities of food and water; they also need treats and toys to keep them entertained, as well as to keep them healthy and happy. But every breed is different, and it can be tough to navigate the aisles of the pet store, confident that your pet will tolerate or enjoy a treat without getting sick from it. Sound familiar?
These three subscription boxes know the struggle. Check out our review of PupBox, BarkBox and BullyMake, and see how they can keep your dog happy and healthy while also saving you money.
BarkBox vs PupBox vs BullyMake
PUPBOX
While each of the boxes featured here are great for dogs, PupBox caters to puppies during their first year of life. PupBox knows puppies, and they know the struggles new puppy owners face. So they make puppy ownership a little bit easier and a lot more fun for both your family and your new pup.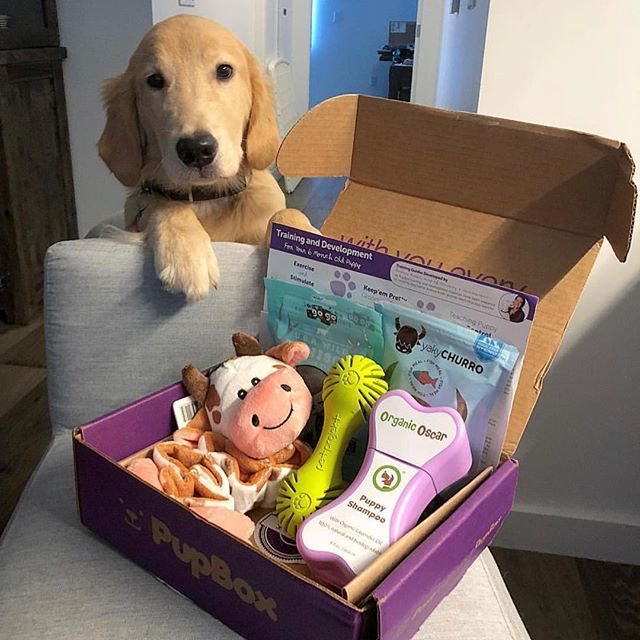 What Comes in a PupBox?
Each box from PupBox offers between 5-7 products that are customized based on your puppy's age and needs. For example, puppies go through a teething phase just like little kids, and they need something to chew on so they don't end up chewing on your shoes or furniture. PupBox knows that some breeds are more chewers than others and takes the guesswork out of choosing appropriate chew-worthy products. From chewing, to grooming to simply keeping your puppy entertained, here are some products from past PupBoxes:
Kong Comfort Snuggles Bear - This little plush toy comforts puppies with its lavender scent and also has a fun squeaker inside.
Fizzion Pet Stain & Odor Remover - Puppies WILL have accidents, and this eco-friendly cleaner helps remove the evidence.
JW Teething Butterfly - It's super cute, looks just like a real baby teether and is specifically designed to satisfy teething pups.
PupBox Pricing
1 month - $39/month
3 months - $34/month
6 months - $32/month
12 months - $29/month
These new PupBox coupon codes will help you save on orders for your new dog:
PupBox Pros
Free shipping within the U.S.
PupBox knows puppies and knows what you'll need during the first year.
The folks at PupBox are altogether really helpful and each box has a customized training plan to help you train your puppy.
PupBox Cons
If you don't like a product, you're stuck with it, as they don't offer refunds.
After the first year, your puppy may get bored with the toys from PupBox when they're no longer puppies anymore.
PupBox accepts major credit and debit cards but does not yet accept PayPal, which many people use.
PupBox Review
Puppy ownership is a lot more overwhelming than people realize, as with all the cuteness comes a lot of sleepless nights and messes to clean up. So it's a pretty cool idea to receive a box that not only knows the tools you need but also grows with your puppy. For puppy owners, PupBox has to be the winner for subscription boxes.

---
BARKBOX
The shipments from BarkBox are so adorable and thoughtful. With a monthly theme, it is fun to anticipate what adventure you and your dog will be taken on with each box. With themes like, "Knights at the Hound Table" and "Chewrassic Bark," you can't help but be entertained and look forward to the next box.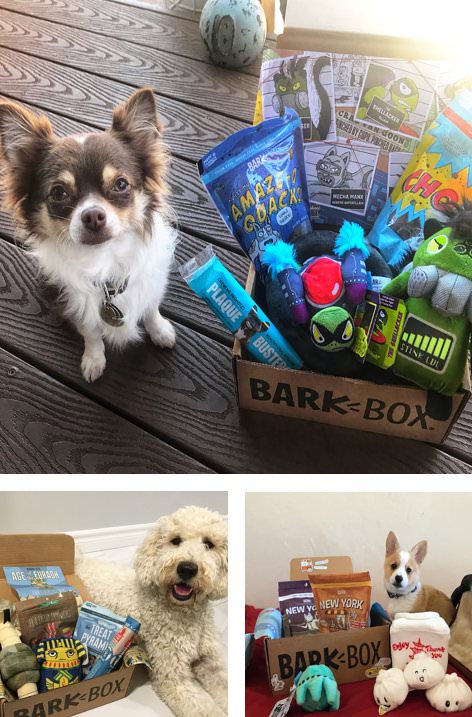 What Comes in a BarkBox?
In each BarkBox, you'll get products that match the theme for the month. There's a minimum of two toys, two all-natural bags of treats and a chew toy - all made within the U.S. or Canada. Here are a few examples of past BarkBox products:
From the "Nights of the Hound Table" themed box, a furry plush toy named, "Squirrel Lancelot" with squeakers and fluff galore.
Another toy from the same medieval box is "Ye Olde Ball & Chain" built to satisfy the toughest of knights and the heaviest chewers.
From the "The Good, the Bad and the Pugly" western-themed box, the featured treat was "Pork and Beans," which is a high-protein snack made without wheat, corn or soy.
BarkBox Pricing
1 month - $29/month
6 months - $25/month
12 months - $21/month
Here are a couple BarkBox discount codes available to help you save on monthly dog goodies:
BarkBox Pros
Free shipping inside the contiguous 48 states.
Products made right here in the states or Canada.
BarkBox works to make it right if your pooch isn't happy with a product.
BarkBox Cons
Honestly, the only cons we could think of was that you can't customize your box. That's it!
BarkBox Review
The folks at BarkBox have done an excellent job of getting dogs to like the mailman. Many subscribers also say that the value of their box often exceeds the amount they pay for a subscription. Getting fun, cleverly themed products that you feel safe giving your dog is pretty much an ideal situation. Plus, the price of BarkBox is really affordable.
---
BULLYMAKE
BULLYMAKE is a great subscription box for owners of dogs who are heavy chewers. Every dog owner knows the disappointment of making a trip to the pet store to make a purchase only to find that it is destroyed by their dog within a day. It becomes an expensive inconvenience, which is even more multiplied when you have a breed notorious for chewing everything in sight. That's why BULLYMAKE is so cool since they promise to replace toys if destroyed by your pooch within 14 days.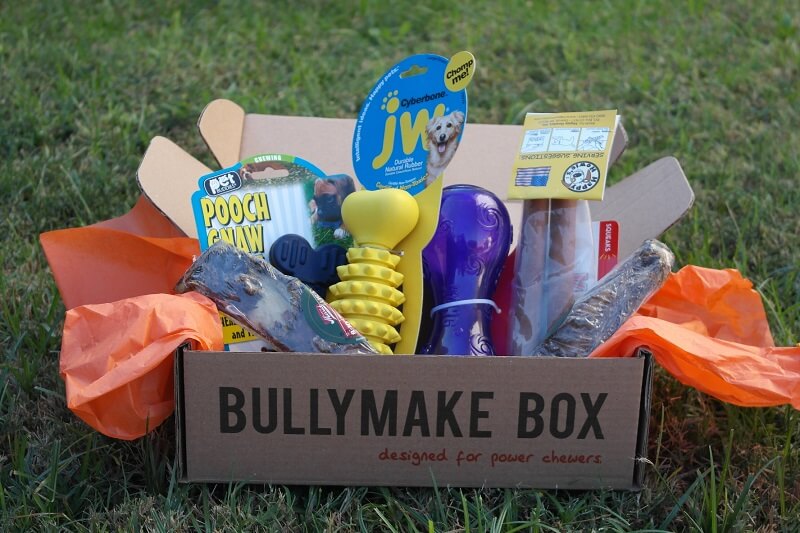 What Comes in a BULLYMAKE Box?
Each BULLYMAKE box contains 2-3 toys and 2-3 treats that are designed for power chewers. What's unique about BULLYMAKE is that they design all their toys themselves. That means you won't find them anywhere else. Plus, they're designed right here in the U.S. Some examples from past boxes include:
The Frog and the Fish - Made from nylon, these creatures are asking for trouble with the way they're attractively designed for dogs who love to chew.
Leprechaun Hat - From the March box for St. Patrick's Day, this cute rubber hat is bouncy, chewable and can be filled with treats.
Cupid's Heart - From the February box, this nylon chew has an interesting texture that's attractive to power chewers.
BullyMake Pricing
1 month - $39/month
3 months - $36/month
6 months - $34/month
12 months - $31/month
You can pair a new BULLYMAKE coupon with your order to help bring down the total price:
BULLYMAKE Pros
They offer a "No toy destroyed within 14 days" guarantee and will replace toys even if your dog simply isn't interested in them.
The whole box is catered to power chewers, with toys and treats that aren't found anywhere else - all made in the U.S.
Free shipping within the U.S.
BULLYMAKE Cons
Many of their products are made with nylon plastic in order to be strong enough for power chewers, but nylon plastic is a bit controversial due to potential health concerns.
They're more expensive than BarkBox and PupBox.
Some users have said that plush toys are sometimes offered in the boxes, yet plush toys aren't always durable enough for power chewers.
BULLYMAKE Review
If you have a dog who loves to demolish things, BULLYMAKE is a no brainer. Even if your dog doesn't destroy your shoes and furniture, it is good to make sure your dog has something to chew on in order to stay occupied when you're not around. The 14-day guarantee is awesome, and so is the fact that everything they offer is made in the U.S.
---
Final Review of PupBox vs BarkBox vs BullyMake
As dog owners, we think the winner for the box that would satisfy canines around the country is BarkBox. This is most likely because of their amusing themed boxes, but dogs seem to agree, and they can't even read! Each subscription box has its perks though. Since every dog is different, take a look to see which box would best suit yours:
Power chewers and larger breeds - BULLYMAKE
Puppies - PupBox
Your everyday pooch who simply likes getting spoiled and for an affordable price - BarkBox
---