The 19 Most Exciting Movies Coming in 2019
January 29, 2019 by Kelly Gunderman
New movie releases are exciting, and 2019 is already packed full with exciting new releases! Whether you are interested in action movies, family flicks, or superhero films, 2019 will be a great year for movie lovers everywhere.
Here is a list of 19 movies coming soon that we are most excited for in 2019, as well as some honorable mentions that we are included at the bottom. You can also visit our Fandango section for the latest deals and offers available.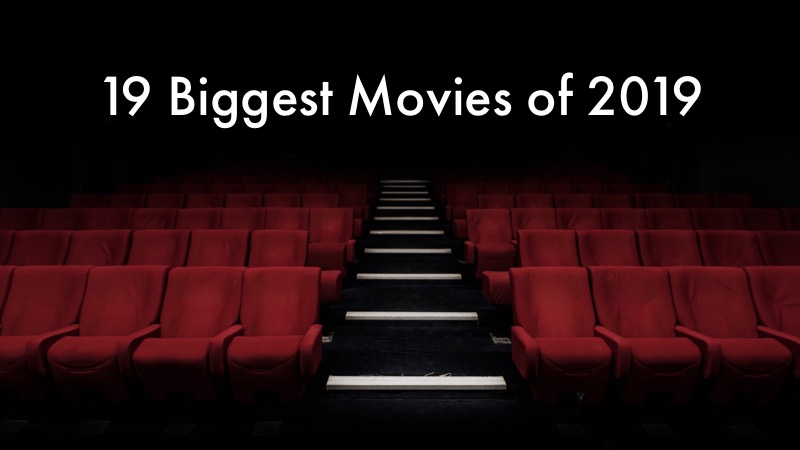 19 Biggest Movies Coming in 2019
1. How to Train Your Dragon: The Hidden World - February 22
A new chapter in a beloved series, How to Train Your Dragon: The Hidden World is a fantastical tale that takes you into the hidden world that is a dragon utopia! When something threatens them, Hiccup and Toothless must leave their home, and have their true destinies revealed.

2. The Beach Bum - March 22
The Beach Bum features fan favorite Matthew McConaughey, harkening back to his Dazed and Confused days as Moondog, a character with a rebellious streak who loves living life by his own rules! This comedy also features Snoop Dogg and is one of the more promising comedies due in 2019.
3. Dumbo - March 29
Heartwarming and perfect for families, this live action remake of the beloved classic Dumbo is coming to theaters in 2019. Tim Burton brings you a tale about an elephant with ears that allow him to fly and help him to save a circus in trouble. Of course, things don't always go to plan, and Dumbo and his friends are faced with plenty of obstacles along the way. Dumbo features Eva Green and Colin Farrell.
4. The Best of Enemies - April 5
The Best of Enemies, which is based on the book called The Best of Enemies: Race and Redemption in the New South by Osha Gray Davidson, is a moving film that features a civil rights activist battling the KKK. This confrontation leads to a court ordered discussion about both beliefs and policies, thus impacting the entire world.

5. Breakthrough - April 12
Breakthrough, which hits theaters in April 2019, is a Christian comedy/drama film that tells the story of a woman's teenage son who falls through ice and winds up in a coma. The family spends time praying and hoping that their faith in God will help him pull through - and he miraculously does. The movie is based on the Christian novel The Impossible, which was written by Joyce Smith with Ginger Kolbaba.

6. Avengers: Endgame - April 26
If you've followed the Avengers series over the years, you know that Avengers: Infinity War had quite the cliffhanger ending. In Avengers: Endgame, the Avengers that are remaining after Thanos's use of the Infinity Stones must figure out how they are going to bring the others back for one more epic showdown. It doesn't get any bigger at the movies in 2019 than this!

7. Pokémon Detective Pikachu - May 10
Pokémon fans rejoice: Pokémon Detective Pikachu, a movie about a man teaming up with Detective Pikachu to find out why his father disappeared, arrives in summer 2019. What they get wrapped up in will change the Pokémon world.

8. Aladdin - May 24
This beloved classic is about to become a live action musical! Whether you grew up watching Aladdin or are new to the story, it is a tale that you won't want to miss in theaters this summer. Aladdin tells the story of a thief who ends up finding a magic lamp that contains a genie, giving him three wishes, starring Will Smith.

9. Ad Astra - May 24
This science fiction thriller starring Brad Pitt and Tommy Lee Jones takes us into the future to figure out why the main character's father's mission to Neptune to uncover extra terrestrial life failed. A very strong cast of characters in this movie makes it a must see this summer.
10. Dark Phoenix - June 7
The latest chapter in the X-Men series will grab your attention and won't let go! Jean Gray, one of the core X-Men, ends up losing control and becoming the group's biggest enemy to date. Jean Gray is nearly killed in space during a rescue mission, and it changes her, making her a threat.
11. Shaft - June 14
Shaft, which stars Samuel L. Jackson reprising his role from the original, features a character asking his father for help solve the mystery behind the death of a dear friend.
12. Toy Story 4 - June 21
Keanu Reeves joins the cast of this classic Pixar movie. Toy Story 4 is the newest installment to the original beloved Toy Story movie franchise. In this sequel, a new toy by the name of Forky joins the cast, and they all set off on a road trip that shows what true friendship is.

13. Child's Play - June 21
In this reboot of the original Child's Play, a mother gives her son a toy doll for this birthday, thinking the gift is one that will make him happy. However, the doll has a more sinister past and isn't quite as innocent as it seems. Aubrey Plaza stars in this reboot of a horror classic.
14. Spider-Man: Far From Home - July 5
In the second Spider-Man movie since Spider-Man was adopted into the Marvel Cinematic Universe, Peter Parker and his friends find themselves in Europe and Jake Gyllenhaal joins the fight. Spider-Man confronts a new foe and naturally, must act.
15. The Lion King - July 19
This live action remake of the original The Lion King is one that has everyone talking! This CGI film takes the original film and features almost scene for scene re-imagining, starring Donald Glover in the lead role. With a great supporting cast of characters, you will find this heartwarming family favorite a real treat in summer 2019.

16. Once Upon a Time in Hollywood - July 26
Once Upon a Time in Hollywood takes place in 1969 and features a washed up Western actor and his stunt double looking for more time in the spotlight. However, everything is different now, and they don't recognize the "new" Hollywood. Once Upon a Time in Hollywood was directed by Quentin Tarantino.
17. Joker - October 4
Based on the DC villain, Joker is a crime/drama thriller that stars Joaquin Phoenix in the title role. This movie tells the story of Arthur Fleck, a comedian who ends up being driven insane and becoming Batman's greatest foe. This is the perfect origin stories for those true superhero fans!

18. A Beautiful Day in the Neighborhood - October 18
A Beautiful Day in the Neighborhood stars Tom Hanks as the beloved Mr. Fred Rogers. This movie tells the story of the friendship between Mr. Rogers and journalist Tom Junod, a somewhat unknown little chapter of Mr. Rogers' life.
19. Sonic the Hedgehog - November 4
Sonic the Hedgehog has been a favorite for decades, and now a CGI film featuring the blue hedgehog is coming in 2019! Sonic the Hedgehog must work with law enforcement while trying to stop the evil villain Dr. Eggman from taking over the world. Jim Carrey and Neal McDonough star.


Honorable Mention:
Captain Marvel - March 8

Pet Sematary - April 5
Shazam! - April 5

John Wick: Chapter 3 - Parabellum - May 17
The Secret Life of Pets 2 - June 7

Men in Black: International June 14
The New Mutants - August 2
It: Chapter Two - September 6
Star Wars: Episode IX - December 20
---