The IdealShape Weight Loss Offer You Won't Want to Miss
July 5, 2019 by Tiffany Douglas
Suns out, buns out, as they say. If you want to get in better shape so you can show off that beach bod this summer, IdealShape may be part of the solution for you! With meal replacement shakes, weight loss programs and more, IdealShape is a good place to get started when it comes to supplementing fitness goals. You can scroll to the very bottom to learn more about IdealShape the company.
This summer, IdealShape is helping men and women across the country get in shape with a huge July 4th sale. Here, we'll suggest a few of the best IdealShape weight loss and fitness products as well as provide coupons you can use to save!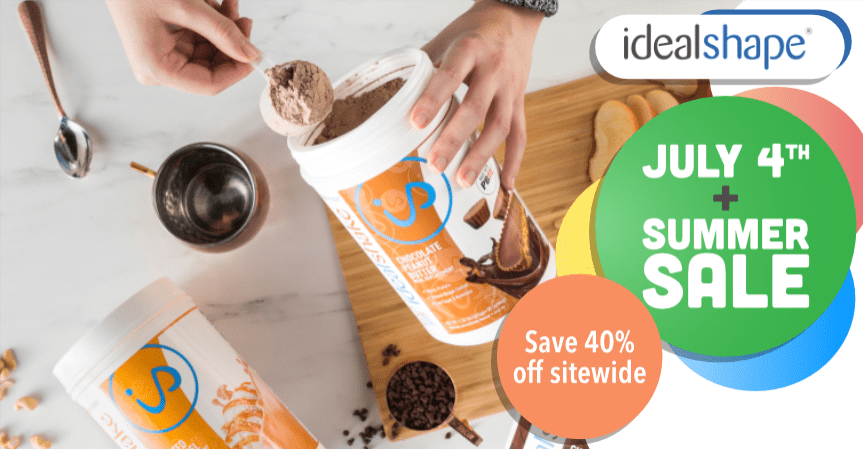 Better Fitness with the IdealShape Summer Sale
IdealShape 4th of July Sale
Before we make any specific product suggestions, let's go over the star of the show, the IdealShape 4th of July coupon! Use this IdealShape coupon code to save 40% off PLUS an extra 18% through July 12:
This coupon can be used sitewide, on products including:

One of the most popular IdealShape weight loss supplements are the meal replacement shakes, IdealShake. Each IdealShake container comes with 30 servings. The shakes can help users control cravings and hunger for approximately 3 hours and also include plenty of whey protein, 11g, to help you rebuild muscle after exercise. You can replace up to 1-2 meals per day with IdealShake. It is available in both vanilla and chocolate and before any coupons, the original price is $35.99 and costs you only about $1.67 per meal.
However, if you're in the market for a weight loss bundle, you will definitely want to use this next IdealShape deal...
Weight Loss 30 Day Bundle Deal
For a limited time, you can save big money on an IdealShape weight loss bundle when purchasing online. Until July 15, you can use this coupon code to save a whopping 62% off 30-day bundles PLUS the extra 18% mentioned above. The original listing price is $358.89 and after all is said and done with this particular IdealShape weight loss bundle deal, you'll only pay $109.05! If you want to lose weight, the time is now.
You can select which flavors you'd like for every product included in the bundle. 30-day weight loss bundles from IdealShape include each of the following:
IdealShake Meal Replacement Shake
IdealChips OR IdealBar
IdealBoost Weight Loss Drink
An IdealPlan eBook
Recipe eBook
Weight Loss Guide eBook
Shaker Bottle
More Info About IdealShape
IdealShape is a leading manufacturer and distributor of weight loss supplements. Those eager to improve their health and lose weight can find products to help them along every step of the way with IdealShape. Products found at IdealShape have been specifically developed for the purpose of losing weight and improving overall fitness for both men and women.
IdealShape regularly offers promotions and will ship internationally to a handful of countries. You can learn more about IdealShape shipping, payments, returns and more by viewing our IdealShape FAQ infographic here.
---
---