The Top Hamburger Day Deals and Offers 2019
May 27, 2019 by Kelly Gunderman
When it comes to fun days of the year, it can be hard to resist feeling excited about a day dedicated to a delicious food that is loved around the globe. On Tuesday, May 28th, it is Hamburger Day! There are lots of different types of hamburgers out there, from all beef burgers to veggie burgers, so it's a holiday that anyone can celebrate.
Hamburger Day the perfect day to celebrate one of your favorite foods, so grab your friends and family and get yourself a mouthwatering burger! Here is a list of some great 2019 Hamburger Day deals.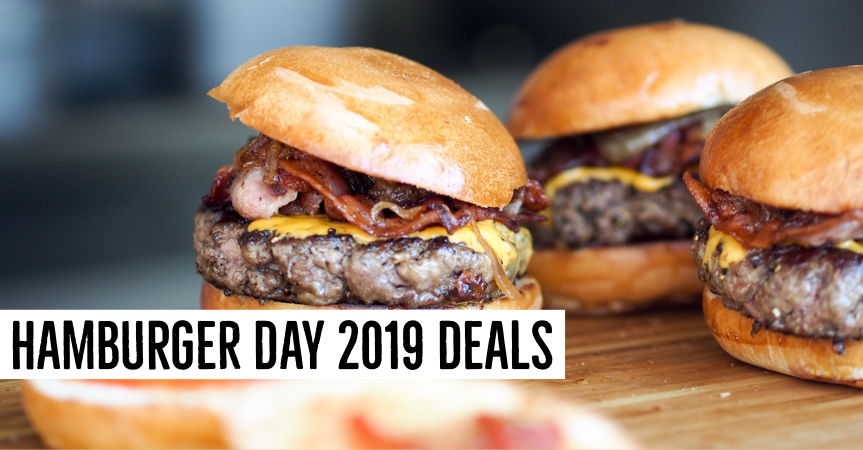 Top 2019 Hamburger Day Deals
When it comes to Hamburger Day, scoring some great deals can help you enjoy the holiday even more. From deals at restaurants to gear to help you cook your own scrumptious burgers, there are plenty of options. Here are some great Hamburger Day deals that you should check out.
Burger King - New King Meal Deal only $3.79 This delicious deal from Burger King allows you to select two sandwiches from their menu, as well as get a small fry and fountain drink, all for under $4. This is a great way to celebrate!
Sonic - Carhop Classic for $2.99 Stop by your local Sonic for a fantastic deal - a quarter pound double cheeseburger and medium tots for only $2.99! This low price is perfect for family and friends!
Wendy's - $4 Meal Deals Wendy's is offering several meal deals that are only $4 each. These meal deals will vary in availability from location to location. Meal deals include fries and a drink.
Rakuten Hamburger Patty Wax Sheets - $6.39 If you love to cook your own delicious hamburgers, these hamburger patty wax sheets are ideal for freezing or storing your patties until ready to use. With a 250 count of wax paper squares, this product takes the fuss out of having to cut your own wax paper squares, saving you precious time so you can enjoy your cookout instead. Check out these Rakuten coupon codes to save:
Details:
Ongoing Offer
No Promo Code Needed. Click "Get Offer" To Activate This Deal. Exclusions May Apply
Exclusive Savings
Wayback Burger Promo - On Hamburger Day, May 28th, some Wayback Burger locations will provide dine-in customers with a coupon for a classic burger $5.28, as opposed to $5.99. The promo is valid for one burger for each guest, and for one day only.
BurgerFi Free Fries Promo - Head on over to BurgerFi's website to take their personality quiz, which will score you a coupon for free fries with the purchase of a burger. This deal only lasts through the end of May, so head over and grab it for yourself!
---