What is in Relief Factor - Drug-Free Pain Relief
March 19, 2021 by Samuel Grinczel
Pain and inflammation affect people every day. Even a slight amount of pain can turn simple tasks into challenges. It's common to seek relief through pharmaceuticals, but oftentimes the positive aspects are only temporary. Relief Factor makes a unique product line that provides lasting benefits by treating pain at the source. This is accomplished by using a blend of botanicals and fish oils that naturally eliminate inflammation in the body.
Keep reading to learn more about Relief Factor, what's in it and how it works!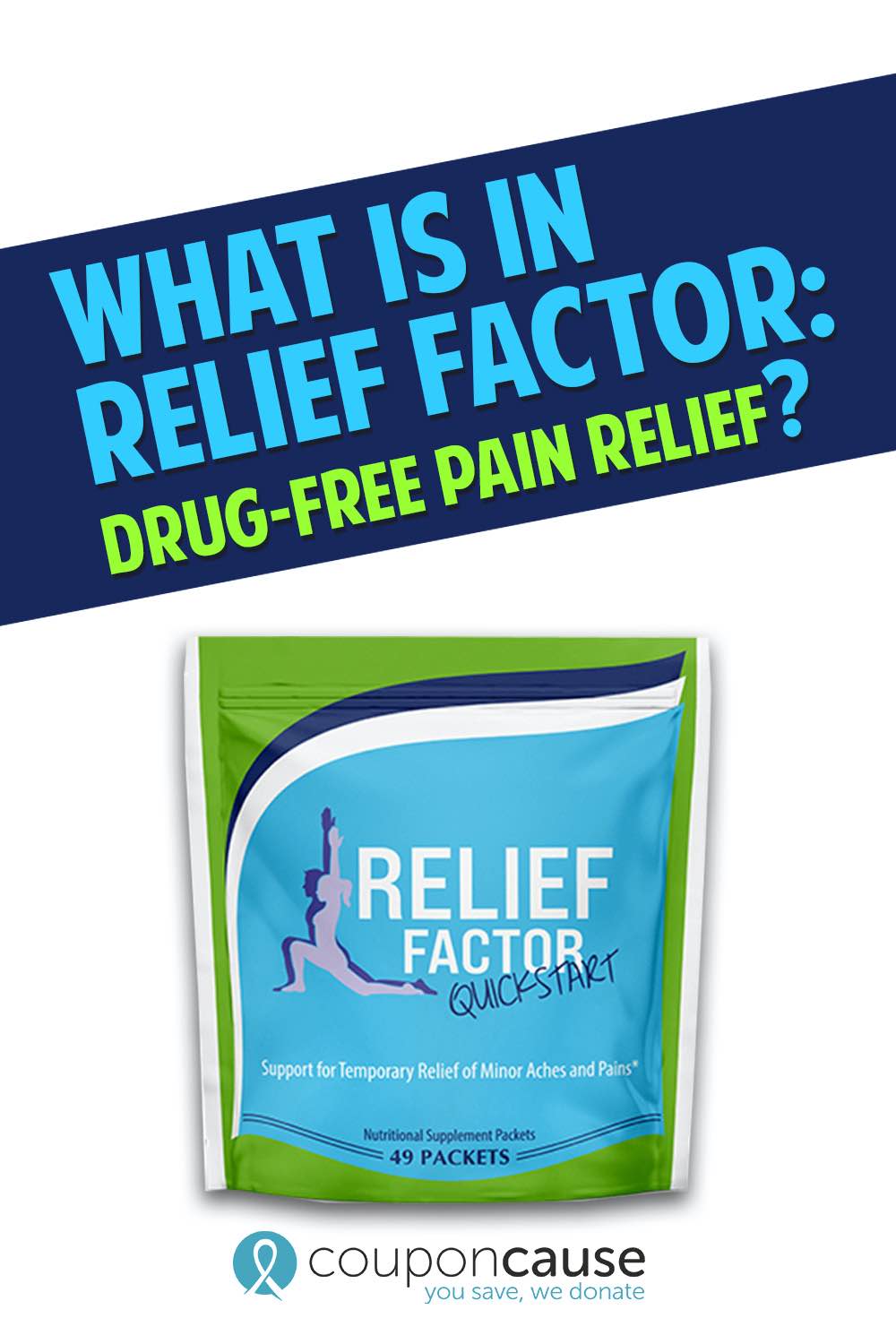 What's in Relief Factor Pain Relief?
Relief Factor QuickStart
Fifteen years of independent clinical practice and research provide the foundation for Relief Factor's main product, QuickStart. Whether you suffer from back, neck, hip, or other general pain, QuickStart provides an affordable way to start your subscription that achieves natural and lasting healing benefits.
Relief Factor QuickStart Ingredients
Relief Factor's main product is a combination of fish oil with extracts from three natural botanicals with proven health benefits. Here are the main ingredients you'll find in the drug-free pain relief, Relief Factor QuickStart, plus what each ingredient does.
Fish oils provide Omega-3 fatty acids that support the body's natural healing abilities and immune response, as well as maintaining balance in cellular tissue.
Extract Icarin comes from the Epimedium plant and is known to optimize blood flow and general tissue health.
Japanese Fleeceflower root provides Resveratrol which is a natural stress regulator while promoting vascular response and blood vessel health.
Curcumin is an extract from turmeric which balances several enzyme systems and helps the body control temporary inflammation due to overexertion.
If you're interested in purchasing, try these Relief Factor coupons to save:
Verified
Details:
Ongoing Offer
No Promo Code Needed. Click "Get Offer" To Activate This Deal. Exclusions May Apply
70% Off 3-Day Quick Start
Relief Factor Calm
Relief Factor's "Calm" product is a natural, drug-free supplement to help regulate cortisol hormone levels in the body. Cortisol is responsible for the "fight or flight" reaction. Relief Factor Calm is effective at promoting restful sleep, reducing daily stress, and improving overall brain functions. Calm is a mix of passionflower extract and phosphatidylserine from soy. Another great Relief Factor product without any dangerous chemicals or drugs!
Relief Factor Energy
The Relief Factor Energy blend is designed to improve your body's ability to absorb nutrients and convert calories into useful fuel. Additionally, it improves blood circulation and aids the body's regenerative abilities. Energy uses a mixture of taurine which improves circulation and B-complex vitamins including biotin, thiamin, and choline. These safe ingredients aid in the body's energy conversion.
How Does Relief Factor Compare to Competitors?
Other anti-inflammatory drugs typically work by inhibiting the activity of cyclooxygenase which produces inflammation in the body. Typical such products include ibuprofen, aspirin, and naproxen. Each of these pain relief products are created as a synthesis of acids aimed at reacting in the body similar to an amino acid. Common over-the-counter anti-inflammatories are helpful by providing fast relief for a symptom but may not address the cause of the pain. These common drugs can also cause other problems over time. Gastrointestinal issues, kidney disease, and adverse cardiovascular events are all possible when used over time.
Relief Factor works differently. It aims to provide lasting pain relief and healing. The simple blends of natural ingredients were created to be taken over time. While starting a Relief Factor program, new users may not feel the benefits until a few days in. Over a short time, the body conditions itself to effectively absorb the ingredients.
Since Relief Factor pain relief products are simple, including natural botanicals and fish oils in low concentrations, the body will experience no adverse side effects compared to synthetic over-the-counter products. Relief Factor is designed to promote the body's natural healing abilities. This, in turn, allows the body to effectively cure itself over time. A positive, lasting impact is achievable with Relief Factor.
---
---