5.11 Tactical was born out of a desire to produce high-quality, technical and durable apparel for law enforcement use. In 1992, their original pant was selected as the official pant for the FBI training academy, and in 2003, a fully-developed military apparel and pack line was created. Since then, they've grown into other categories including Fire, EMS, Fitness, and Outdoors. They specialize in technical apparel that features CCW-compatible pockets and can be used in a variety of different applications.
Each year, they produce the 5.11 Tactical Holiday Gift Guide, featuring their top recommendations in a variety of categories including the best gifts for men and women, the best gifts at varying price points and the best stocking stuffers. Below are the top recommendations for each of this year's categories. Before you purchase, try pairing a 5.11 Tactical Series holiday coupon to save on your order.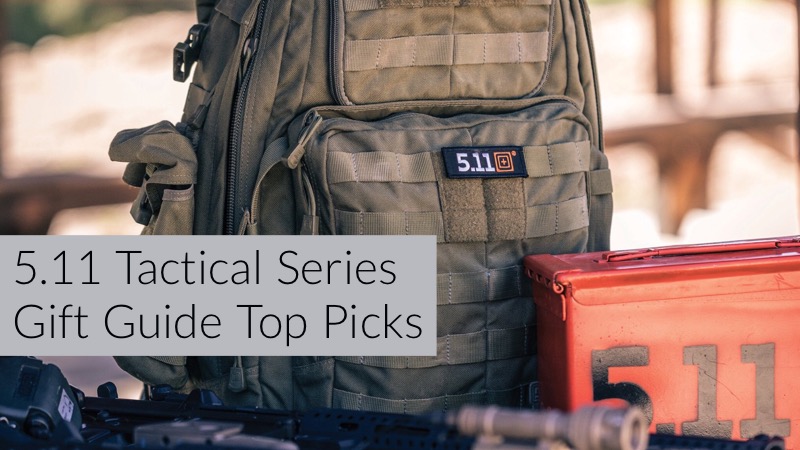 5.11 Tactical Series Gift Guide Overview
Best Gift for Him - Defender-Flex Straight Jean
The Defender-Flex Straight Jean is one of the newer pants in the 5.11 Tactical lineup and their first venture into denim jeans. Using denim with mechanical stretch, these are a comfortable jean good for running, bending and other movement, but without the reduced durability of spandex. They also provide deeper coin pockets for everyday carry items such as knives and feature back yoke pockets for magazines. Even if you're not using it at the range, these jeans are great for everyday use and outdoor activities like hiking and camping.
Best Gift for Her - Hanna Flannel
One of the more casual-leaning apparel pieces in the 5.11 Tactical Series holiday gift guide collection is the Women's Hanna Flannel. It features a polyester/elastane fabric which holds it's shape, won't shrink or stretch out, and is durable for everyday outdoor use. It still has that 5.11 touch in the RAPIDraw placket, which allows for quick access to your sidearm. And the double chest pockets with pen pocket are an excellent touch for keeping items organized. This regular fit, brushed flannel is comfortable, looks appropriate for everyday and outdoor use and features some added functionality for CCW use.
Best Gift Under $100 - Rush12 Backpack 24L
The Rush12 occupies the middle range of volume in the Rush Series of packs from 5.11, offering 24L of capacity and making it the perfect bag for everyday use or for an overnight excursion. With 16 compartments, the Rush12 is designed to keep all of your gear separated and organized, making everything easy to find in situations that require quick access. The laptop sleeve and option for inserting and routing a hydration bladder means this pack does just as well on your daily commute as out on weekend hikes. The water-resistant 1050D nylon allows this pack to be very abrasion resistant and the adjustable sternum straps and side compression straps mean this pack will be comfortable to wear, even with heavy loads.


Best Gift Under $50 - 1.5" Trainer Belt
The perfect multi-functional gift under $50 is the 1.5" Trainer Belt. The preferred belt for law enforcement agencies, this belt is also appropriate for everyday use. The thick nylon mesh means that even with a holster added, it won't twist or sag. The stainless steel buckle is rated at 5,100 lbs which makes this belt function additionally as a tie down, carry strap or emergency harness. This belt will give you the comfort of having a quality, durable belt for emergencies, and will last for years. Make sure to size up one size, as these 5.11 Tactical Series belts tend to run small.
Best Stocking Suffer - Steel Jacket Multitool Wallet
The Steel Jacket Multitool Wallet is one of the best multitool wallets on the market for feature-set and size. Features include a bottle opener, multiple-sized hex bolt wrenches, three sizes of screwdriver, a pry tool and inserts for a SIM card and memory card. The stainless steel material shields against RFID and is TSA-approved. The closure system is rubber and ensures adjustability and durability.
While these are just a few suggestions from the 5.11 Tactical Holiday Guide, there are many more options to choose from in each category, so everyone will surely find something suitable for their needs. And with 5.11's Vendor Code of Conduct and Supply Chain Act, you can be sure that each product was made using the highest quality and at compliant factories around the world.