Giving Tuesday comes on the first Tuesday after Thanksgiving as a day of encouraged charity. Giving Tuesday was started as a global movement in 2012. Today, businesses and people alike take the day as an opportunity to give back directly to the communities that support them.

This year for Giving Tuesday, CouponCause is partnering with a collection of nonprofit organizations that are addressing important causes in the United States. One of these causes is maintaining a healthy environment. To help support this cause, CouponCause has entered into a Giving Tuesday partnership with the nonprofit Leave No Trace. CouponCause will be matching all donations made to Leave No Trace up to $5,000 for Giving Tuesday 2020.
Continue through this post to read more about the problem that Leave No Trace is addressing, how they make a difference through their work and how the CouponCause Giving Tuesday donation will be used. For the purpose of our Giving Tuesday initiative, we've paired Leave No Trace with a popular merchant featured here at CouponCause. The partnering brand of Leave No Trace is Outdoorsy and at the bottom of this post, we've included information on how what Outdoorsy provides aligns with the cause that has the focus of Leave No Trace.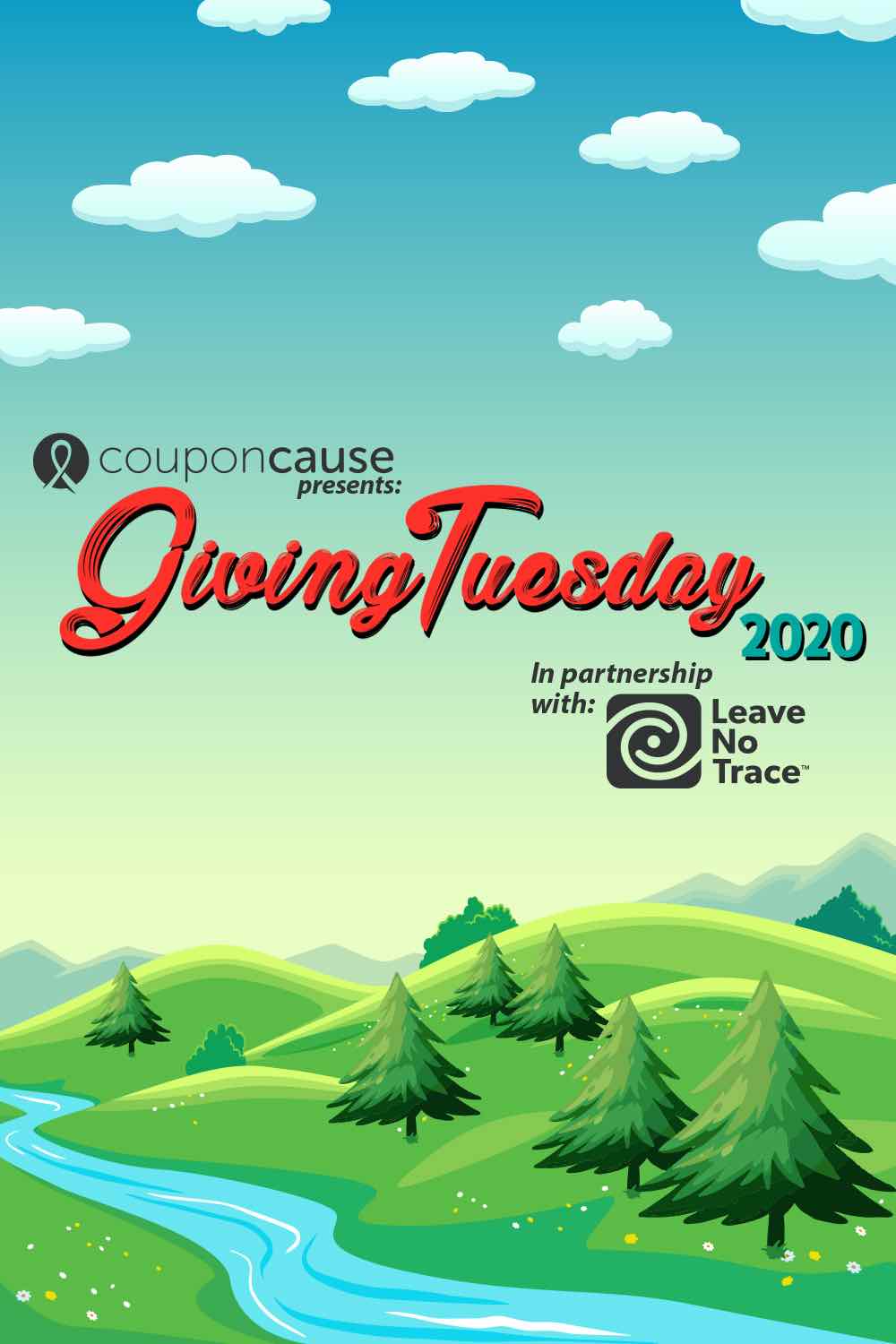 Maintaining the Environment
Many people in the US love leaving the cities or towns where they live to venture into nature for a refresh, and when we go into nature, we generally like to take things with us. Whether it's food and drinks, games to play or gear for camping, we should all be mindful to bring back everything we take with us. It's important that we leave the areas we visit in the same condition that we find them. And, if there's trash in the environment we visit, it's our responsibility to clean it up.
The vibrancy and health of the natural world around us really is up to us. No one enjoys being at a beach that is strewn with litter or hiking a mountain trail peppered with water bottles. Not only is it visually unappealing, but materials such as plastic can do real harm to plants and animals. By committing to leaving no trace in the places we visit, we each do our part in helping to make sure our planet thrives into the future.
A problem that makes this difficult is actually pretty simple: education. Only in recent human history have societies like the United States begun to realize the long term effects of littering and poor waste management. Check out this infographic to learn more about the problem of maintaining the environment and for details on how Leave No Trace is helping to address the problem.

About Leave No Trace
Leave No Trace is a nonprofit organization focused on the cause of "outdoor ethics". There are a few main categories that Leave No Trace is devoted to. They are:
Trashed Natural Areas
Polluted Water
Misinformation in the Outdoors
Wildlife at Risk
Damaged Trails
Destructive Fires
Connecting Youth to Nature
Crowded Parks
Through partnerships with biologists, leaders in outdoor education and land managers, Leave No Trace is able to provide educational resources that help everyday people make informed decisions about how to interact with nature. The goal is simple: to make sure humans respect our planet. One of the main teaching tools which Leave No Trace continually revises based on new information, is their promotion of the "7 Principles". These principles are as follows:
Plan Ahead & Prepare
Travel & Camp on Durable Surfaces
Dispose of Waste Properly
Leave What You Find
Minimize Campfire Impacts
Respect Wildlife
Be Considerate of Other Visitors
One example of a current initiative is the "Leave No Trace for Every Kid". This program is targeted at children and its goal is to educate and engage youth in the outdoors. This initiative is as much about helping children learn how to responsibly interact with nature as it is in helping them develop into responsible human beings.
Leave No Trace and Outdoorsy
As stated above, for this Giving Tuesday initiative we have paired our partnering charities with popular brands featured at CouponCause. Partnered with Leave No Trace is the brand Outdoorsy. Outdoorsy allows users of the site to rent RVs directly from RV owners. By making it easier for travelers to find RVs for their next trip, Outdoorsy is truly helping more people experience nature. This is a perfect match for Leave No Trace and by combining the two, we hope to increase awareness of how renters should responsibly interact with the environments they visit.
If you'd like to make a donation directly to Leave No Trace, please visit their website here. You can also contribute to charities like Leave No Trace by using CouponCause to find exclusive coupons for all your online shopping needs, including the latest Outdoorsy coupons. Each year, CouponCause uses a portion of the revenue raised from our collection of coupons and promo codes to make donations to a wide variety of charities. The charities with which we've partnered in the past can be viewed on our "Featured Causes" page. Or, visit our blog to see all of the Giving Tuesday donations we're making this year.