Mindful eating is as popular as ever. Specialty products catering to personal nutrition have multiplied exponentially in the last ten years and only figure to dominate even more shelf space, both in stores and online, in the years to come. The Prepd Pack, made famous on Kickstarter and Indiegogo, combines high-end design and health conscious functionality for a cool new take on the lunchbox.
The Prepd Pack is known most for its thoughtfully-executed modular design. Individual snap-top containers neatly file into the center serving area in alignments that cater a few small servings, one multi-ingredient meal, or a mix. To get started, the pack comes fitted with one large container and two small ones, a mini sauce pot, and a chic set of magnetic cutlery. Containers fit snuggly into the pack, removing the need to worry about spills and leaks. They also stack in the refrigerator, affording easy access and efficient storage for meal planners.
Before you get your Prepd pack, here are some pros and cons you should be aware of first. When you're ready to purchase, view our offers at the Prepd section to find out how you can save money on your purchase.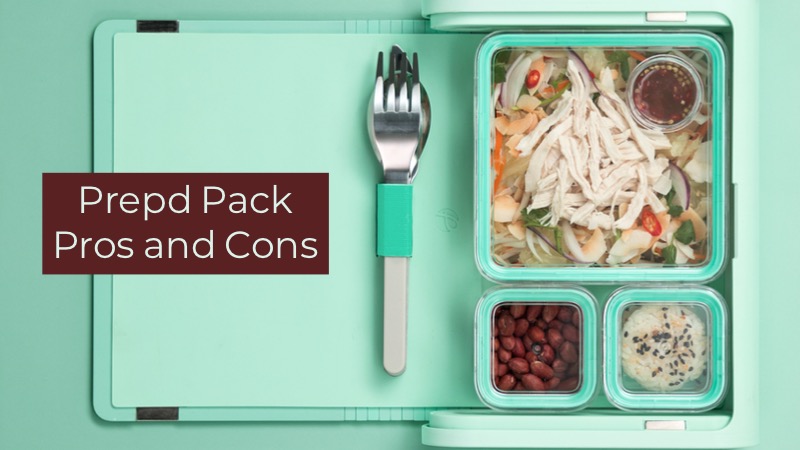 Prepd Pack Pros and Cons
-PRED PACK PROS-
1. Modular construction

The modern layout allows for optimal portion control, a benefit backed by Oprah. It also unlocks professional-level meal management for anyone from competitive fitness athletes down to every-day lunchtime warriors. It's a simple and elegant solution to overeating.
2. Aesthetic
Available in a range of attractive pastel colors, the Prepd Pack is an eye-catcher in any cafeteria. It also sports an exquisite bamboo rolling lid, completely unique in form and function.
3. Containers
Who doesn't love a good container? These are crystal clear BPA-free copolyester and protect against leaks without clunky clips or latches. They look as good in the pack as they do stacked in the fridge. The mini sauce pot is a fan favorite.
4. Prepd App
No, the lunchbox doesn't have a Bluetooth connection, but users with the Prepd App are made privy to delicious recipes that not only taste great but fit into the allotted containers without creating excess waste or too much of a mess. Developed by chefs and nutritionists, it's a kitchen companion that helps to diversify the sometimes monotonous daily task of lunchtime.
-PREPD PACK CONS-
1. Dimensions
Since the invention of the brown paper bag, people have enjoyed a certain dimensional flexibility with their lunch delivery system. As in, they can be smushed, smashed, and crammed into small places when needed, often at the expense of enclosed pretzels. The Prepd Pack is boxy and rigid, shaped more like a briefcase than a bag.
2. Cutlery
Dirty silverware is an age-old problem associated with packed lunches. Unfortunately, this kit hasn't addressed that with any kind of certainty. Clipping a messy bundle of utensils to the inside of this gorgeous bag is somewhat problematic, magnetically linked or not.
3. Concept
Yes, the Prepd Pack makes it easier for people to control portions and avoid fast food outside of the house, but these healthy behaviors aren't out-of-reach otherwise. They can be achieved using other lunchboxes, methods, and motivations. In that sense, it's not a magical weight-loss product, not many of those exist. As with any tool to help you lose weight and encourage self-improvement, commitment and hard work are paramount.