QALO is a company that works around creating functional rings and jewelry that are durable and will change the way you wear rings. They are committed to family, adventure, and happiness, and want to share that commitment with you by bringing you rings that will be perfect for the way you live.
Whether you are an athlete and play hard, or if you are someone who loves the outdoors, QALO designs rings that will stay with you and make it easy for you to wear while you are out there doing the things that make you and your partner happy.

Here is everything to know about QALO ring sizing and custom ring designs! Be sure to use a QALO coupon to help you save on your purchase.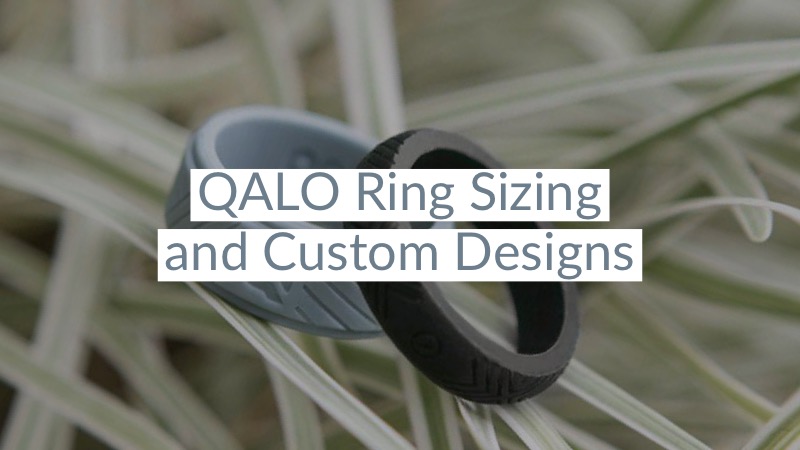 QALO Ring Sizing
Once you find a QALO ring that you absolutely love, the next step is finding the correct size for you. While ring sizing can often be a challenge, QALO offers an easy process for determining your ring size from the comfort of your own home.
All you need to determine your ring size is a pen or pencil and either a flexible measuring tape or a piece of string and a ruler. It's so simple to determine your QALO ring size using this method – simply take the measuring tape or the piece of string and wrap it around the finger you are going to be wearing the ring on. Once you have done that, make sure the measuring tape or string feels snug and not tight. Then look at how many inches (or millimeters) you get when you wrap it around your finger. Next, reference the QALO size chart to see what size ring you will take.
If you find yourself between ring sizes, you should size up if you are purchasing a classic QALO ring and size down for other collections. Silicone rings do not shrink or get smaller, but it is important to know that over long periods of time and being worn regularly, they can stretch a bit. QALO's return and exchange policy, as well as the warranty offered on the rings sold, will help you if this occurs to yours.
QALO Custom Ring Design
Custom ring design is exciting – you have the ability to make your jewelry truly your own. When it comes to custom ring design at QALO, what you want is the most important thing, and QALO is happy to help you get the perfect look for your ring.
Designing your own custom silicone rings from QALO is a simple process for you – QALO walks you through customization options easily, without stress. The first step is to choose whether you want a men's or women's ring, and then select your silhouette – classic, modern, stackable, etc.
From there, choose a color from a wide variety of color options. After choosing your color, you are taken to engraving options, where you can customize a message on both the inside and outside of the ring, or choose a fun pattern for the outside. Add your new ring to your cart after selecting your size, and now you have a lovely, personalized silicone ring.
QALO rings are a wonderful alternative to rings that are made from gold or silver, and can be worn for a variety or occasions. Whether you are active, spend a lot of time outdoors, or work with your hands a lot, you don't want traditional bands to get damaged, and silicone bands are the perfect choice for people on-the-go. With easy sizing and plenty of customization options to make your QALO ring perfect for you, your ring will be personal and a perfect fit forever! See how QALO stacks up amongst the best silicone wedding rings.