When you have an arsenal of beauty products, it's quite unlikely that they're all made by the same brand. So when you run out, having all of your trusted products in one convenient location is just one of the benefits of shopping at Sephora.
What really makes Sephora special, though, is the in-store experience. They want you to try new things, so they make it fun and affordable to shop there. Here are ways you can actually save money by shopping at your nearest Sephora location! If you prefer to stay home, be sure to use these Sephora online deals to cut costs.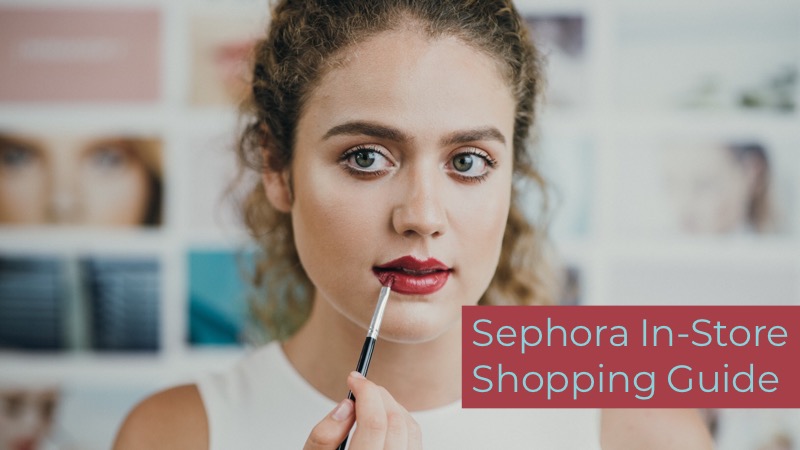 In-Store Sephora Shopping Guide
Become a Beauty Insider. You'll get in-store beauty services and free beauty classes, as well as a birthday gift. You'll also earn one point for every dollar you spend. Use those points to shop the Beauty Insider Rewards Bazaar for services, samples and unique experiences. The rewards increase the more you shop. For example:

If you spend $350 at Sephora, you become a VIB (Very Important Beauty Insider), which means you'll get invited to store events as well as receive a free makeover.
Spend a lot of money at Sephora during the year (we're talking $1,000+), and you'll become a VIB Rouge member. That will get you free shipping, unlimited free makeovers and a beauty concierge you can go to for advice whenever you want.
Look down. Newer and more expensive products tend to be displayed at eye level. Products on lower shelves may be similar, but cheaper.
Spend enough to get a free beauty service. If you have a habit of popping into store whenever you run out of your beauty products, stop waiting until the last minute, and start being proactive. By planning your purchases in advance and making one single trip, you're more likely to spend enough to earn a free beauty service. For example:

With a $50 minimum purchase, you can get a complementary 45-minute full-face makeover from one of the Sephora beauty advisors.
With a $125 minimum purchase, get a complementary 90-minute skincare, fragrance and beauty makeover - all customized for you.
Say yes to the free samples. If an employee (or cast member) asks if you need help, say yes! Say you're interested in a certain type of product and they may have a free sample of something you can take home with you.
Take advantage of Sephora's iQ services. All locations offer product-matching services that help you buy the right product the first time, instead of wasting your money on the wrong products in a discovery proces. Just answer a few questions to find the most effective products for your skin type, the best makeup and hair colors for your skin tone and even the best fragrances for your specific tastes.
If you change your mind about a product, return it for a refund. Sometimes what seems like a match made in heaven isn't a match at all. As long as you have a valid ID and receipt, you can get a full refund if the product is only slightly used.
Scour the store for sale items. Even though Sephora doesn't often offer store-wide sales, they do have sale items you can find in bins near product displays or along the edges of the store.
Ask for the "Daily Wow." Each day of the week, you get 50% off a select item called, "The Daily Wow" both in store and online while supplies last.
Next time you're tempted to go online to buy your beauty products, consider checking out a Sephora location near you instead. Don't forget to check with Coupon Cause for exclusive in-store and online deals.