Beauty addicts unite, as Sephora is about to satisfy your product testing cravings. If you're a beauty junkie like us, then you basically live for the opportunity to find your next 'how could I live without this?'-product. And Sephora brings you just that through their monthly subscription package called 'PLAY!'.
For $10 a month, you get mini-versions of a wide range of hot products from some of the trendiest beauty companies around. Tempted to try out a bunch of beautifying, skin and hair care products (and possibly find a few new favorites)? Here's a peek at what you'll be getting each month.

Before you sign up for a PLAY! subscription, check out our Sephora deals to see how you can save.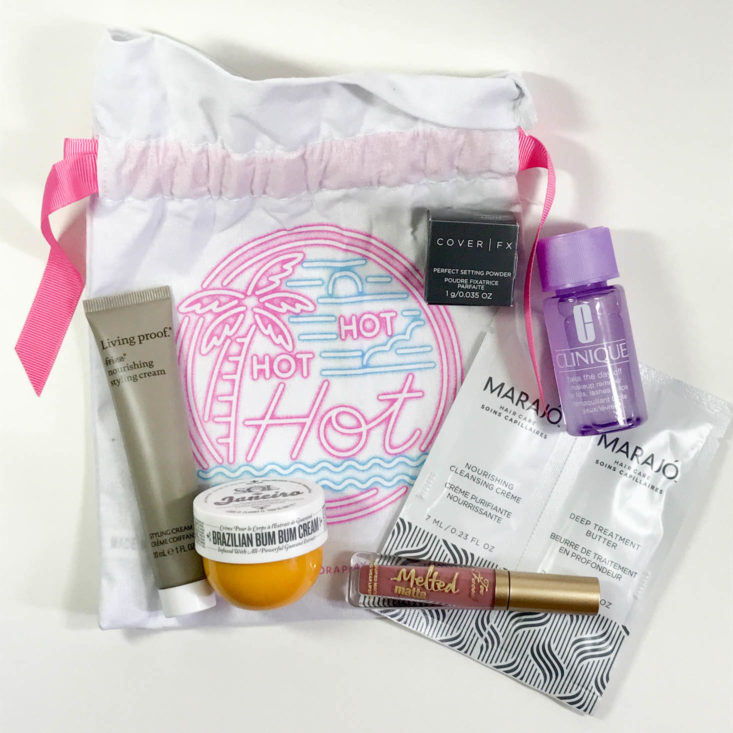 Inside PLAY! by Sephora
1. A Cute Makeup Bag
Made to carry all your beauty essentials from your face creams to your favorite lipsticks, this little drawstring case is designed based on each month's theme. For June, it was all about 'Summer Nights', with a white bag featuring hot pink and aqua blue accents.
2. Five or Six Deluxe Beauty Samples
The highlight of the box, for sure: five skin care, hair care and beauty samples with a value of around $30. In June, the box came packed with:
Clinique's Take the Day off Makeup Remover – a powerful product that promises to help you remove even your fake eyelash glue and the last bits of your waterproof mascara.
Living Proof's No Frizz Nourishing Styling Cream – a hair styling product that's designed to tone down your frizz, leaving you with lush locks.
Sol de Janeiro's Brazilian Bum Bum Cream – a body lotion that promises to tighten up those curves.
Too Faced's Melted Matte Liquified Long Wear Matte Lipstick – a lightweight product that gives you that trendy matte finish.
Marajo's Nourishing Cleansing Cream & Deep Treatment Butter – a hair care duo that aims to give you extra shine.
Cover FX's Perfect Setting Powder – a loose powder that promises to give you an airbrushed result.
3. A Fragrance Sample
Most monthly packs come with a fragrance sample, which makes it ideal for you if you love testing out (or collecting) deluxe perfumes. While June's box skipped the fragrance and replaced it with a beauty sample, May's PLAY! box featured Viktor & Rolf' Flowerbomb, a fruity, warm and spicy scent.
4. The PLAY! Book of Tips and Tricks
Your 101 on how to use and enjoy the products in your Sephora PLAY! box, complete with beauty tricks and ideas for devoted beauty aficionados.
5. The Sephora PLAY! Pass for In-Store Learning
If you're a true beauty junkie, you'll love this little bonus card that offers you the opportunity to hit the Sephora store and get tips on using the products you received in your box. Moreover, you also get 50 extra reward points to use with your purchase in the store.
If you're one of those people who can spend countless hours in Sephora, putting all their available testers to good use, then these ultra-curated subscription boxes were created with you in mind. Whether you're a lipstick fanatic or simply dying to try out the latest skin care products in town, Sephora's PLAY! is definitely the beauty lover's playground. Loaded with the hottest goodies of the beauty niche, plus cute collector's bags and fun coupons, the brand's subscription boxes will literally convert you into an enthusiastic product tester.