If you're a fashionista on a budget, there's nothing better than a chic store that gives you the opportunity to shop for the latest styles while also saving bucks. From coordinated separates to urban boho dresses and from trendy heels to accessories, SHEIN is all about cute, affordable fashion.
And if you're on the hunt for the hottest rompers or summery frocks, you're in luck – as we've got the ultimate guide on how to shop and save with SHEIN.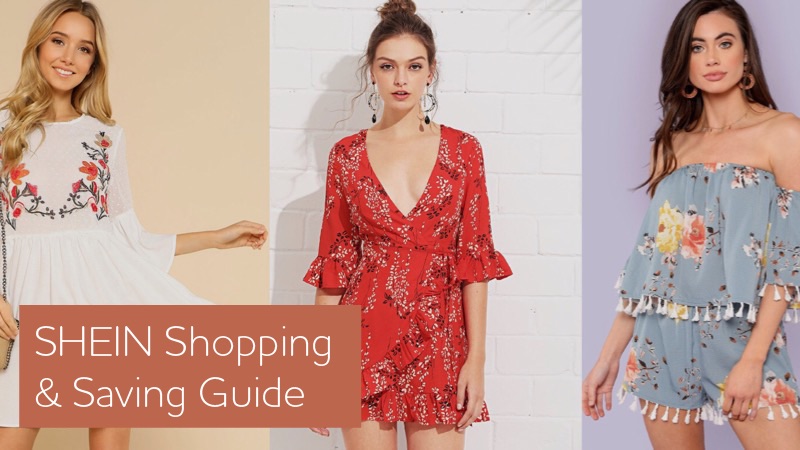 SHEIN Deal Tips
Browse Through the Bargain Categories – SHEIN is a great shopping destination if you're an avid bargain hunter – and they make it really easy for you. One of the best places to start your hunt: simply check out the store's 'Offers' categories, be it dresses under $10 or shoes under $20.
Use the Discount Codes on the Site – If you're shopping for the first time on SHEIN, make sure to put their $3 off coupon to good use. And if you're planning on spending over $90, make sure to grab the code for $10 off (and $25 off if your order is over $140). You can find a bunch of other great SHEIN deals here.
Check out the Sales Section and Grab Those 90% Discounts - A pearl-adorned little black dress for under $9? Or perhaps an on-trend guipure lace top for just $7? We say YES! One thing's for sure: SHEIN does not kid around when they promise 90% off.
Bonus points: their big sales feature items from the latest collections (not just from previous seasons), so you'll be able to get that ruffled crop top and rock it while it's still hot outside. Always check the New Season Sale page for the hottest trends featuring the styles of the moment!
Get Free Shipping – If your cart is already loaded with a bunch of cute summery outfits that cost $49 or more, great news: SHEIN offers free shipping! And if more than just a few items caught your eye while browsing through the latest styles and you're headed towards the $100 mark, know that the brand offers free express shipping for any client in the US whose order is at least $99. Free international shipping is also available, so make sure to check their shipping info page for more details.
Follow SHEIN on Social Media for Updates in Sales and Gift Cards – Why follow SHEIN on Instagram? Not only will you get the latest on the brand's sales and tips and ideas on how to pair their latest fashions, but you will also be able to try your luck at winning great gift cards (most of them valued at $100). Style inspo, the chance to shop till you drop and save bucks on your favorite styles? We are all in!
Use Those Filters – If you're on a strict budget and determined to find the chicest frocks with the most tempting price tags, make sure to utilize the filters and sort your items by selecting the option 'Price Low to High'. The results: ultra-chic and adorable looks for as low as $5, whether you're shopping for dresses, tops, shorts or skirts.
Check out the Trends Page for the Latest Styles - You're all set and up-to-date with the latest tips on how to save big while shopping on SHEIN. And if the one thing that you're missing now is a little style inspiration, make sure to take a look at their lookbook page for a glimpse of the latest styles and how to mix and match them like a pro.
Shop for Kids, Men, Pets, and Home on SHEIN too - Shoppers love all the affordable option, in-style options for SHEIN kidswear, men's clothing, pets, and home. Their home products run the gamut, from utensils to decor to bath mats. And when it comes to SHEIN kids, the selection is especially vast and trendy. Reviews of SHEIN baby and toddler clothes, by real-life moms, are especially positive.
Whether you're an avid bargain hunter on a mission or simply prefer to stick to a budget while on a shopping spree, SHEIN is ready to maximize your shopping experience. By offering a great selection of clothing styles and accessories with tempting price tags and a great selection of discounts and coupons, you're sure to get a great deal. Browse, shop and save big on that dreamy eyelet dress and those must-have block heels!