Each year, an average of 80% of Americans could benefit from receiving orthodontic care, but only 1% actually receive it. Despite the fact that nobody really enjoys going to the dentist or orthodontist, cost is a major factor. That leaves countless people ashamed of how their teeth look, not to mention any health problems associated with a lack of orthodontic care. SmileDirectClub aims to help people get straighter teeth in a more affordable way than they would with traditional braces or other invisible aligners. To help you determine what's best for you, here are the pros and cons of using SmileDirectClub instead of traditional teeth-straightening methods.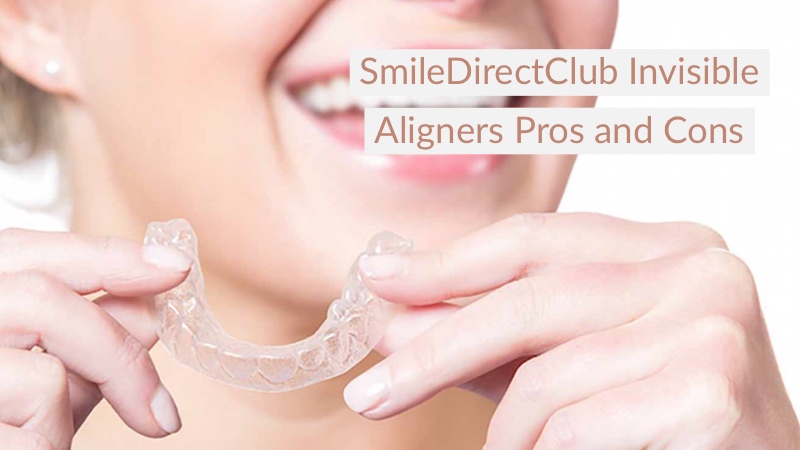 Invisible Aligners from SmileDirectClub
SmileDirectClub Pros
The cost - SmileDirectClub costs about 60% less than any other reliable teeth-straightening option available. Try our new 2019 SmileDirectClub coupons to save on your order.
At-home process - There's no need to make appointments or sit in a waiting room with SmileDirectClub. Everything you need is shipped straight to you, and you can do the entire process without the need to take a trip to an orthodontist.
Professional review of progress - Licensed dentists and orthodontists review your progress to make sure your smile has improved and that your progress aligns with their standards of care.
Quick and easy - Most smiles are straightened within an average of six months.
Free teeth whitening - You're going to have a new smile, so why not make sure it's pearly white?
Payment options - SmileDirectClub invisible aligners are eligible expenses for CareCredit, HSAs and FSAs. All major credit cards are also accepted.
Insurance reimbursement - SmileDirectClub accepts most dental insurance plans, however, you are responsible for making the initial payment and working directly with your insurance company for reimbursement.
SmileDirectClub Cons
Daily commitment - You have to use "Chewies" 2-3 times per day for 10-15 minutes each time. (Chewies are chewed like gum and help the aligners fit more tightly)
Adjustment period - You need to wear your aligners all day, every day in order for them to be effective, only taking them out for eating and drinking. It may feel strange during the initial adjustment period as you learn to talk with them in your mouth.
You're responsible for your own progress - There's no phone call from your dentist office hounding you to come in for an adjustment, but that means the responsibility lies on you to change your next set of aligners and keep track of how many days you have left to wear them.
Maintenance - In order to protect your investment, SmileDirectClub recommends wearing a retainer 24 hours/day for the first two weeks after you've finished with your aligners. After the first two weeks, you need to wear a retainer nightly and replace it every six months.
SmileDirectClub
Traditional Braces
Other Invisible Aligners
Average Cost
One-time payment of $1,850
OR
$250 down payment and then $80/month until paid off
Over $7,000
$5,000
Monthly Office Visit Requirement
No
Yes
Yes
Simple At-home Process
Yes
No
No
Free Teeth Whitening
Yes
No
No
Money-back Guarantee
Yes
No

No
There are many reasons why over 500,000 customers have used SmileDirectClub for straighter teeth. In order to make sure it's right for you, check their website to see if you're a candidate. It only takes 30 seconds, and you could be on your way to a more confident smile.