Sonos is known as a colorful innovator in the home audio industry. In being one of the first brands to offer high-quality full-home wireless speaker connectivity, they filled a huge gap in the market and secured the hearts of music lovers everywhere. Each new unit is easily looped-in with other Sonos products, making "surround sound" a truly modular experience and ensuring that hyper-loyal buyers are always looking to expand on an existing set-up.


Outdoor use, though, has been a work-in-progress for the Sonos development team, until now. With the ink dried on a key partnership and dazzling new hardware on the way, Sonos is ready to take this party outside.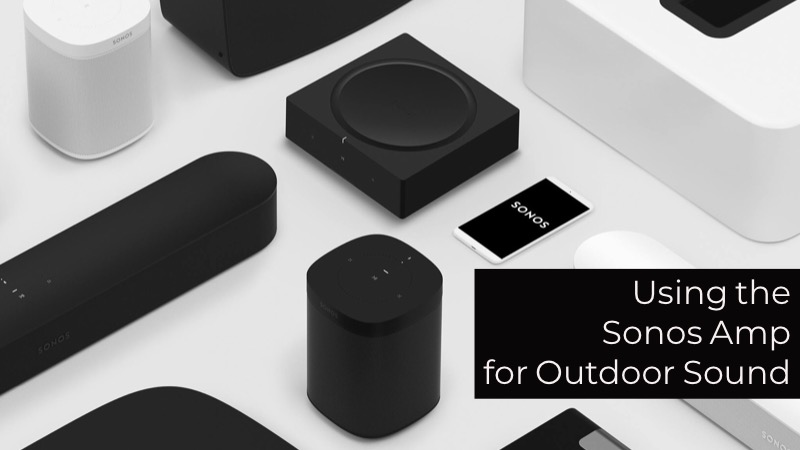 Sonos Amp & Outdoor Speakers
The key product in this scenario is the updated Sonos Amp. Consider it a new-age receiver for old school hard-wired speakers and sophisticated Sonos units alike. It can be wired directly to existing outdoor speaker systems, while simultaneously connected to select wireless speakers on the same stream, magically unifying sound and space for party listening and summer cookouts.
In connecting existing outdoor speakers to the Sonos Amp, users gain the freedom of playing wireless DJ, while enhancing the quality of audio output. Rocking at 125 watts per channel, the robust Amp packs a punch within a classically Sonos minimal form factor. It can be mounted and stacked to serve larger spaces or additional speakers, as each Amp powers a maximum of four channels.
It's the foundation of any outdoor Sonos sound environment.
Once everything is plugged-in, it's time to crank it. Users interface with the Amp and aligned audio system through the buttery-smooth Sonos Controller mobile app. It pulls content from more than thirty streaming services, including:
Apple
Amazon
Google Music
Spotify
Pandora
Users can also compile playlists and enact detailed manual or auto sound tuning with the tap of a finger. App navigation and functionality matches that of a typical, indoor Sonos setup, eliminating the need to learn yet another platform. Save on your purchase with a Sonos amp coupon!
What's Next with Sonos Outdoors
While the Amp can, and is meant to, help users get more from their existing outdoor speaker investment, a recent (as of this posting) partnership announcement gave audiophiles preview of Sonos' exciting upcoming expansion into outdoor audio, bringing their legendary ease-of-use to backyards, patios, pool rooms, and more.
In collaboration with established hardware brand, Sonance, they expect to release a stunning line of in-wall, ceiling, and outdoor speakers early in 2019. These will operate as traditional speakers while offering enhanced functionality when paired with a Sonos Amp. Added benefits of that pairing include the ability to "Truetune" any space with Sonos' proprietary listening and equalization software, in addition to that sweet mobile interface freedom that Sonos users know and love.
With this release, super-users, new home owners, anyone that enjoys a good jam session, will have the option to build a fully-Sonos audio experience in their home and outside of it. And, with Sonos' long-standing position of embracing compatibility, you can control it all through a number of methods, including Amazon's assistant, Alexa, apps available in both major app stores, and smooth synchronicity with select smarthome systems. With Sonos, the possibilities are endless and now that includes the backyard.