TeamViewer, founded in Germany in 2005, is a global leader in secure remote desktop connectivity. Their platform facilitates encrypted communication for web meetings, file sharing, and other fundamental online business tools now commonplace in the conference room.
With it, modern professionals are able to achieve and surpass goals with internet-age agility. It's also one of the only platforms of its kind to promise business connectivity to Apple devices, in addition to those from at least eight other major hardware manufacturers and service providers.
It's easy for any business owner or digital professional to imagine scenarios in which these services would be useful. Below, we evoke five examples perfect for Teamviewer.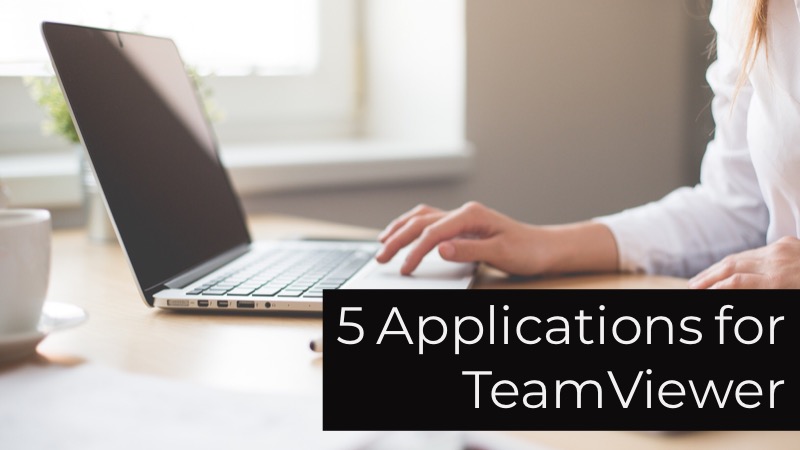 TeamViewer Applications
1 - Bring in an Expert
You are developing a concept that requires high-level input from the engineering team, who's headquartered in Sweden. You share your screen as your organization's top mechanical mind and the engineering manager reviews and provides invaluable comment on critical aspects of your draft in real-time, from across the Atlantic Ocean.
Multinational organizations have talent all over the world. TeamViewer's Blizz Collaboration Companion brings together experts and those who seek their consult at the tap of a mouse, free to comment on and review material on an encrypted remote connection. Teams can connect via voice conference, video and screen sharing, or online chat messenger.
2 - Connected Workplace
You manage an office or design team that encourages a bring-your-own-device policy. You work with Apple-philes, Android stans, Google fans, and every other flavor of brand-loyal problem solver.
Professionals in some industries insist on, and do better work with, their personal devices. This shouldn't inhibit a business from hiring talented people. TeamViewer services are secure and dependable on all major platforms, doubling or tripling a business's available hardware.
3 - Meeting Topper
A sales meeting is going well, but you can tell the client was looking for something else. You divert the pitch momentarily to access your desktop via secure remote connection, accessing information on a solution better suited for the client's newly stated needs. Agility is key.
With TeamViewer's fluid remote desktop accessibility, you travel with supporting data, sales material, and archival media for the exact moment they become needed. With it, there's less need to travel with priceless, and fragile, hard drives or a password scrambling key fob.
4 - Staffing Emergency
A seasonal illness catches hold in a regional office. It sends a few linchpin contributors home for an extended period of time. Employees must quickly learn and cover for some of the daily obligations left unattended. You utilize TeamViewer support tools to bring everyone up to speed.
TeamViewer's Resolve IT features are set-up to aid work-at-home employees, temps, trainees— anyone requiring assistance or a refresher course on digital tools that can be daunting for new or unfamiliar users. Aligned with the TeamViewer calling card, all training services are administered remotely, removing time and costs associated with on-site training.
5 - Endless Office

You get to talking with the person behind you in-line at the concession stand. After sharing a mutual interest in fried fair food, you discover professional opportunities that benefit both the employee and employer of both parties. With a corn dog in one hand, you deftly access and wield a multimedia sales presentation in the other, breaking ground on a lucrative long-term partnership.
With secure remote access, the world is your office. Never miss an opportunity to share information, or fail to seize an opportunity, due to time and place. It is 2019, after all and TeamViewer is here to help. Visit our TeamViewer section to find deals that will help you save on your purchase.