Cellular plans have taken many forms over the course of the more than twenty years that providers have been in competition with one another. Marketing and package arrangements are constantly altered to better catch the attention of valuable, and often loyal, mobile users.
While most providers sell their products in simplified tiers, every person is different. Each user requires a different set of services from their mobile experience, and thus, should exercise due diligence in investigating their realistic data and functionality needs before choosing a product or signing a contract. All of the major cellular companies, Verizon especially, offer finely tuned service packages in addition to the window-dressing products they heavily invest to advertise.
Before setting up your plan, the Verizon Wireless section featured at CouponCause can help you find offers to save!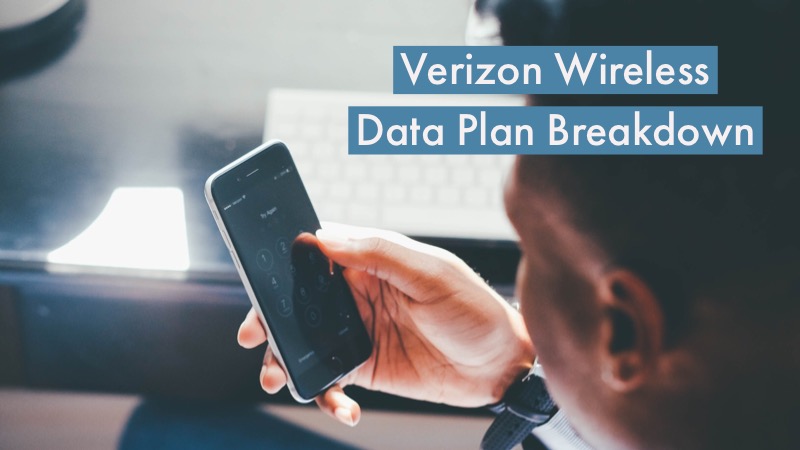 Verizon Wireless Data Plan
Determining cellular needs, however, is an inexact science. Most providers now offer data expenditure tools that users can track to apply average data spends to decision-making on any future purchase. This information is hosted in user profiles accessed online or via provider apps like My Verizon.
Verizon's website, if a user is making the switch from elsewhere, also includes a variety of easy-to-use survey tools to help narrow down exactly what a person needs from their robust service. With these tools, patience, and a bit of research, a person is better informed to spend efficiently on a product that's become a functioning requirement in our hyper-connected world.
Verizon has something for everyone. Informed buyers can select from a range of offerings, from data-heavy super streamer unlimited packages down to pay-as-you-go home body bundles. Verizon's website is a great source of information on each of these packages, but we've gathered the highlights below. Prices listed are before taxes and fees, as of December of 2018.
Unlimited Data Plans
Verizon's famous unlimited plans are built around unlimited text, talk, and data— the triple crown of mobile use. Escalating levels include added perks like Travel Passes to unlock international use, bumps in streaming quality, and upgrades in Verizon Rewards. Each comes easy talk and text to Canada and Mexico, as well as unlimited mobile hotspot connectivity.
These packages are for super-users that depend on their phone to conduct a heavy digital workload or conduct multifaceted communication across many platforms on a daily basis. For some, that's a Monday. For others, these plans come with too much sauce.

$75 per line for one
$65 per line for two
$50 per line for three
$40 per line for four or more
$85 per line for one
$80 per line for two
$60 per line for three
$50 per line for four or more
$95 per line for one
$90 per line for two
$70 per line for three
$60 per line for four or more
Shared Data Plans
Each of Verizon's limited plans include unlimited talk and text with scaling data allowances. They are all listed to include carryover data, safety mode, and rewards bonuses. Safety Mode is self-inflicted throttling for when data limits are within striking range.
Shared plans are a good option for anyone with limited data needs or that relies mostly on wifi connectivity for their mobile usage, at home or at work. These work well as simple solo or family plans, as long as everyone is mindful of usage, or roomy pair-up plans for couples, roommates, siblings, or friends. They are tiered solely on expected usage of data, so users should have a good handle on their needs before making a selection, as overage fees can be costly.
Small: $35 for 2GB
Medium: $50 for 4GB
Large: $70 for 8GB
Five: $55 for 5GB (one phone)
Single Device Plans
More than just smartphones— speakers, watches, and security systems have gained near-sentience with recent technological advancements. They do, however, now require much of the same by way of data and connectivity as our familiar mobile phones and computers. These plans are meant to enable devices that are not paired with an existing family or shared data plan.
They are priced individually per item, as each serves a somewhat specific function in terms of cellular connectivity for now. Scaled packages for smarthome connectivity are based on data usage, a common theme. In this case, bandwidth-heavy features like high-quality streaming security video will push users upward on the pricing scale.
Basic phone: $30
Tablet/Hotspot/Wearable: $10
Connected home: $60/$90/$120/$150
Connected Device Plans
Connected plans are designed for hyper-connected multi-device families, especially those spread across a larger geographical range than one single property. Users select a total data allowance anywhere from 2GB to 100GB, in sixteen increments and priced from $20 to a hefty $710 per month. Devices are then added to the plan on a per item basis.
Other Plans
Verizon also offers finely tuned services for businesses or those wishing to use data on a prepaid basis. Both options are customizable to fit specific needs and group sizes. Prepaid plans are available for up to ten lines. The largest business package supports twenty-six or more devices. Unlimited talk and text remain part of the deal in both cases.