25 Mother's Day Deals Mom Will Be Happy About
May 4, 2018 by Eric White
Mother's Day is quickly coming upon us! This year, Mother's Day falls on Sunday, May 13. To help you prepare for this honorable holiday, we've compiled 25 deals into this blog post that we think will make your mom very, very happy.
If you don't see anything you like here, check out our suggestions for 10 subscription boxes that your mom will definitely love or view all of our Mother's Day deals in one spot! We're sure you'll find something your mom will love.
Here are 25 awesome Mother's Day deals for Mother's Day 2018.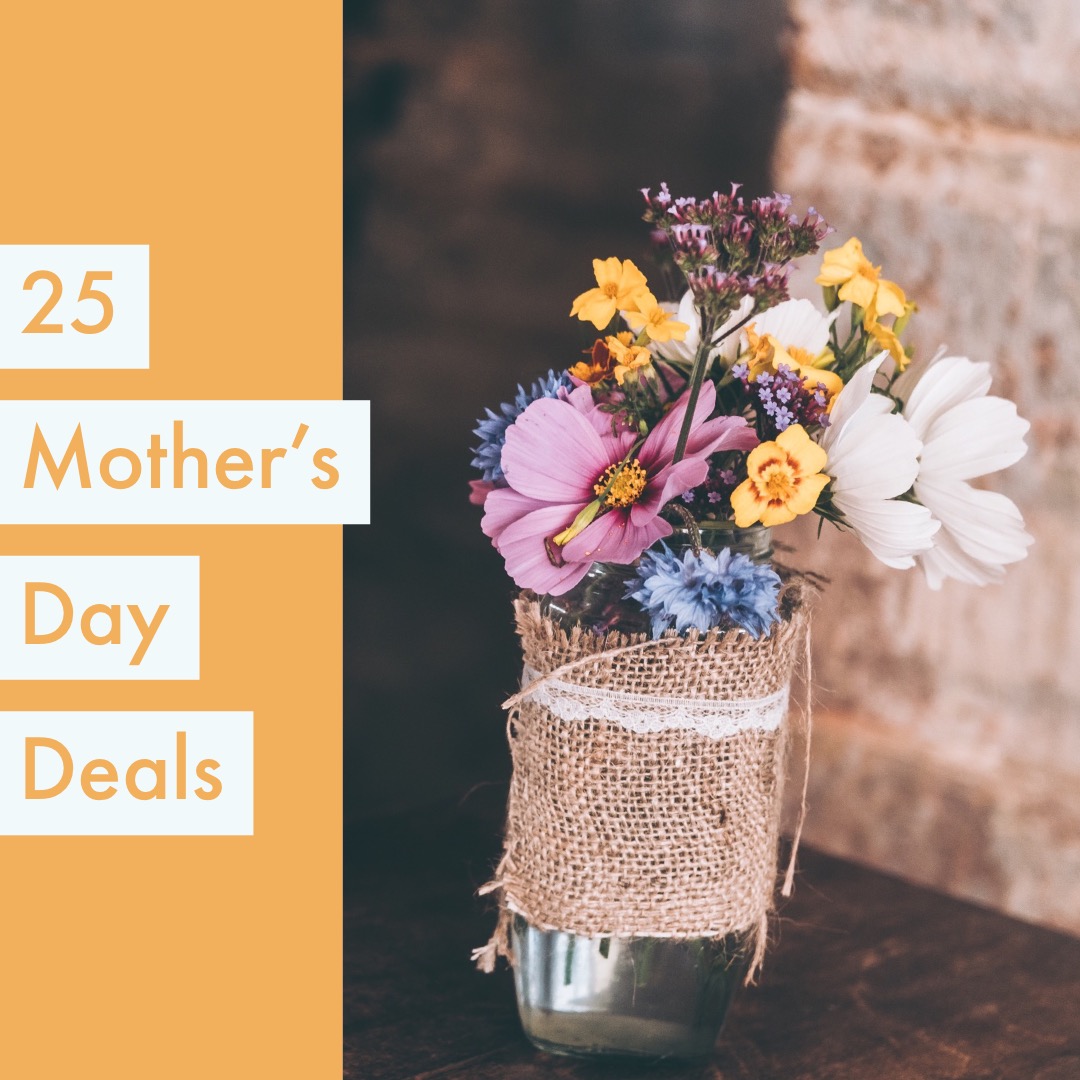 25 Mother's Day Deals
1. Kate Spade - Use code MDAY18 for 20% off your full priced purchase - Expires May 13
2. 1-800-Flowers - Use code MDAYERLY for 15% off the exclusive Mother's Day collection - Expires May 9
3. Flirty Aprons - Select items starting at $3 for Mother's Day sale - Expires May 13
4. Hurom - 25% off all juicers with code BESTMOMEVER - Expires May 13
5. Old Time Candy - $10 off $50+ orders with code MOM18 - Expires May 13
6. GourmetGiftBaskets.com - Mother's Day 15% off sitewide sale with code MOM15 - Expires May 13
7. Bloomsy Box - 12% off any Bloomsy Order with code MOM18 - Expires May 31
8. Belle & June - $40 Off Mother's Day Gifts with code MOM2018 - Expires May 10
9. Peace Love World - Mama Gift Guide: Get free shipping on orders $100+ - Expires May 13
10. Jewelry Affairs - 15% off sitewide with code JAMOTHER - Expires May 13
11. Fronay - 15% off entire jewelry collection and free shipping with code MOM2018 - Expires May 26
12. W Concept - Mother's Day Gift Guide: Extra 10% off on selected styles with code FORMOM - Expires May 7
13. Things Remembered - 20% off personalized gifts for mom with code A238 - Expires May 13
14. PatPat - 10% off any order with code MOTHER10 - Expires May 13
15. Moleskine - 15% off new spring collection with code MOM - Expires May 13
16. Fruit Bouquets - 10% off when you order early for Mother's Day with code HEARTMOM - Expires May 10
17. Szul - $10 off $75+ orders with code MOM10 - Expires May 11
18. DAWGS - 60% off sitewide Mother's Day Sale with code MOTHER60 - Expires May 14
19. Sperry - Free candle or socks with any $100+ order Mother's Day gift with purchase - Expires May 13
20. VIPSHOP - $5 off $25+ jewelry orders for Mother's Day with code MOTHER5 - Expires May 15
21. Gnoce - 10% off any order exclusive deal with code CAUSE10 - Expires May 13
22. Teleflora - 20% off flowers for mom with code AFLS1857 - Expires May 14
23. SoftWalk - $25 off $99+ orders or $60 off $199+ orders with code MOM2018 - Expires May 13
24. We Make Beauty - Extra 18% off any order with code MOM18 - Expires May 13
25. Wine Down Box - $15 off any subscription Mother's Day sale with code HAPPYMOM15 - Expires May 14
---