5 Mobile App Powered Services That Make Home Living Easier
September 10, 2019 by Angie Long
Running a household, even if it only includes yourself, isn't always as easy as it should be. There are bills to be paid, errands to run, things to be fixed, pets to take care of, and the list goes on. That's why we're always looking for ways to eliminate that stress and enjoy as much of our free time as possible.
Here are five app-powered services available via iOS and Android that make home living easier.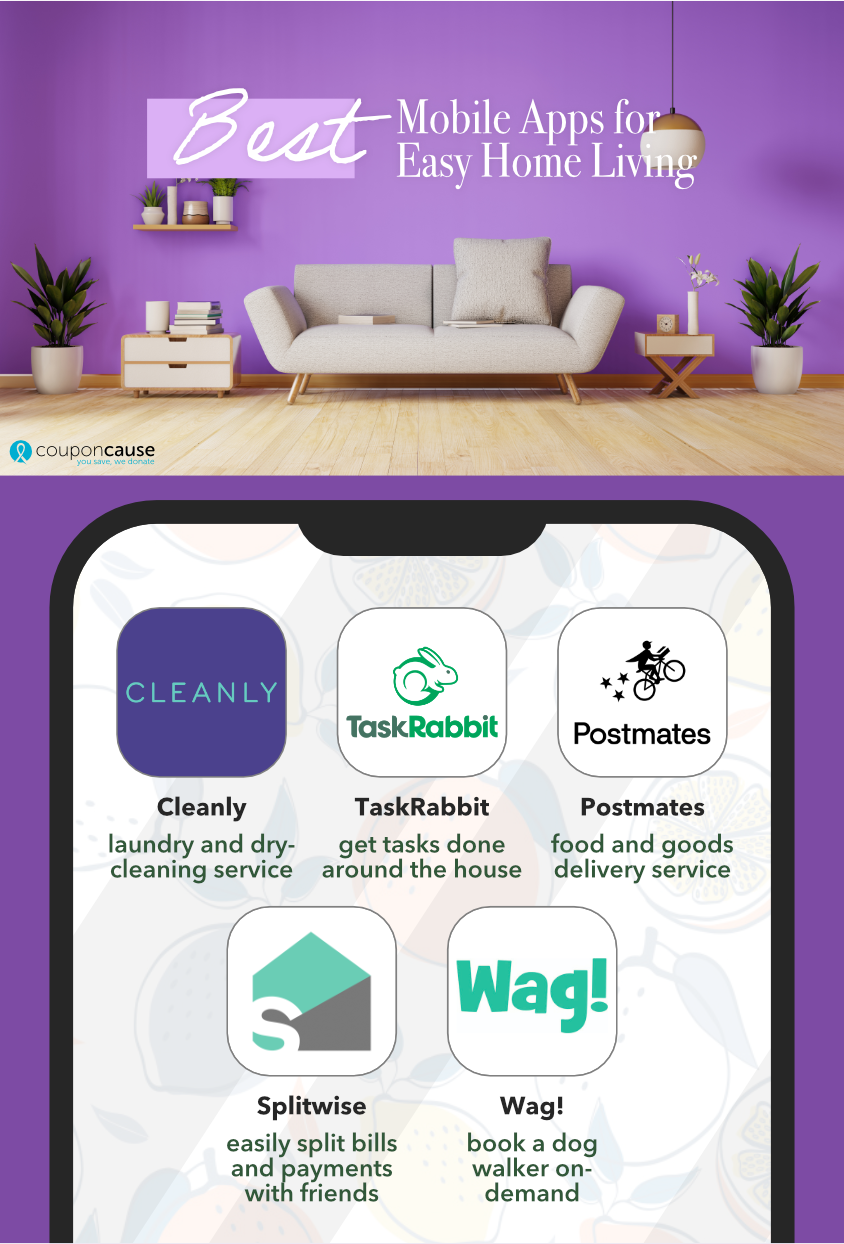 Best Mobile Apps for Easier Home Living
1. Cleanly (iOS or Android)
Cleanly is a laundry and dry-cleaning service for people who hate doing laundry, or simply don't have the time. Unlike traditional laundry and dry-cleaning services, Cleanly promises easy-to-understand pricing and great customer service.
How Cleanly Works
A Cleanly concierge picks up your items, places them in customized bags and then scans them using QR code technology.
Your items are taken to the Cleanly fulfillment center where knowledgeable associates sort items, ensuring their specific care needs are met, and paying attention to any special instructions.
Your items are then cleaned by Cleanly's vendor partners before being returned to the fulfillment center.
Your Cleanly concierge picks up your items from the fulfillment center and delivers them back to you at a time you choose.
Try out these Cleanly coupon codes to save on your first order:
2. TaskRabbit (iOS or Android)
Need something done around the house but aren't sure how to do it (or simply don't want to)? TaskRabbit connects you with local handy people to help you get things done around your home conveniently and affordably. Some of the most common tasks people use TaskRabbit for include handyman services, moving help, painters, yard cleanup, laundry services, personal assistant services, furniture assembly and more.
How TaskRabbit Works
Describe what task you need help with, as well as when you need it done and where.
Browse taskers according to their skills, price and reviews. If you find someone who might be able to do the task you need, you can chat with them first to confirm they're a good fit before booking.
The tasker completes the task, and you pay them and leave them a review through TaskRabbit.
3. Postmates (iOS or Android)
Postmates is a goods-delivery app that enables people to get anything from local stores delivered to their home for a small fee.
How Postmates Works
Download the Postmates app.
Order something from anywhere in the city.
Just like ride-sharing apps, Postmates matches your order to a Postmates driver who can pick it up for you and deliver it to you. You can track your driver through the app.
Some extra FAQs about Postmates include:
The delivery fee depends on the distance from pick-up to drop-off. The minimum is typically $5 but can be less if a merchant is offering a lower amount.
Delivery is made within one hour.
Postmates operates 365 days a year.
Before ordering, see if a Postmates discount code can help you save:
4. Splitwise (iOS or Android)
If you have roommates and shared utility bills to pay, you likely understand the hassle of making sure everyone pays on time. Or if you simply tend to go out friends a lot, it can be awkward discussing who owes what portion of the bill, down to the exact penny. The Splitwise app eliminates that awkwardness and helps you easily divide household costs and split payments with friends. Anyone you authorize can log in to the shared account to see what they owe. You can also set up alerts as reminders for paying bills on time. If you upgrade to Pro, you can scan receipts, analyze spending charts, convert currencies and more.
5. Wag! (iOS or Android)
Having a dog is a huge commitment, and there are days when they need a little more attention than we can give them. Wag! is an app that helps you book a dog walker on-demand so you don't have to stress about it. You can even get a dog walker within 15 minutes. The Wag! dog walkers are insured and bonded, and they make sure you're made aware of each step of the walk with live GPS tracking via the app. You also pay and leave care instructions through the app, so the only other things you have to do are provide home access instructions and leave dog notes for the walker. Wag! will even provide you with a free lockbox on request so you have somewhere to safely store your spare key for the dog walker.
While there seem to be more of these types of apps popping up regularly, the five mentioned here are tried and true. Simply being aware that these types of apps are available could really come in handy in times of need or if you simply want to make your home life a little easier.
---