8 Best Places to Start an Online Education with Extra Time at Home, Plus Coupons!
March 25, 2020 by Samantha Carey
When you're cooped up at home, there are only so many TV shows you can watch before your brain turns to mush. One of the greatest things you can do with spare time at home is to educate yourself. Whether it's a subject you're trying to brush up on or brand new territory, you can learn about a plethora of subjects using online education tools.
Keep reading to learn more about some of the web's best education platforms so you can get to learning!
Best Online Education Platforms for Time at Home
Udemy
With over 100,000 courses to choose from, Udemy has no shortage of subject matter. On Udemy, you can access informative courses for as low as $10.99 per course. For those who don't have the time or money for a college education, Udemy has classes you'd likely be interested in. Select categories like marketing, business, photography or even music! These Udemy discount codes are regularly updated:
edX
If you are looking for an online educational platform with free course options, edX is the place to go. edX gives you access to over 4,500 courses from 140 top institutions including Harvard, MIT, and more. edX has subjects such as engineering, humanities, and data science among many others. Save on edX courses you may need to purchases with an edX promo code:
Codecademy
If you're looking to enter into the growing world of coding, or even refresh some of your existing coding skills, look no further than Codecademy. You can use Codecademy to learn all of the ins and outs of the latest trends in coding alongside millions of coding learners. If you're not sure where to start, Codecademy has a simple quiz you can take that will help you decide where to start. Just $19.99 per month gets you access to all of the coding courses Codecademy has to offer. Try one of these Codecademy discount codes to save:
The Great Courses
For the auditory and visual learners out there is a great resource for learning through The Great Courses. This learning tool is perfect for those who want to educate themselves while doing other things. You can enjoy videos and audio files on a variety of subjects including religion, history, science, and more. The prices on The Great Courses lessons vary per subject and content with the option of a subscription. Here are two The Great Courses promo codes you can use to save now:

Coursera
For an all-encompassing education from top instructors, try Coursera. Coursera gives you the ability to learn about any subject, anytime, anywhere. Coursera gives users access to videos, homework exercises, discussion forms, and more. Their platform is 100% online and offers free courses or paid ones starting at $39. Paid courses include a certificate of completion. Try these Coursera coupon codes to save some money on your certificate:
LinkedIn Learning
LinkedIn is one of the most reputable online communities for businesses and entrepreneurs and they offer a stellar learning resource called LinkedIn Learning. This learning service gives you access to 15,000 expert-led courses, a course-completion certificate, projects, quizzes, and more. With LinkedIn Learning, you can learn about everything from software development to leadership and management. Courses are subscription-based, costing $19.99 per month for an annual plan, but you can get your first month free. Our LinkedIn Learning discount codes can help you save: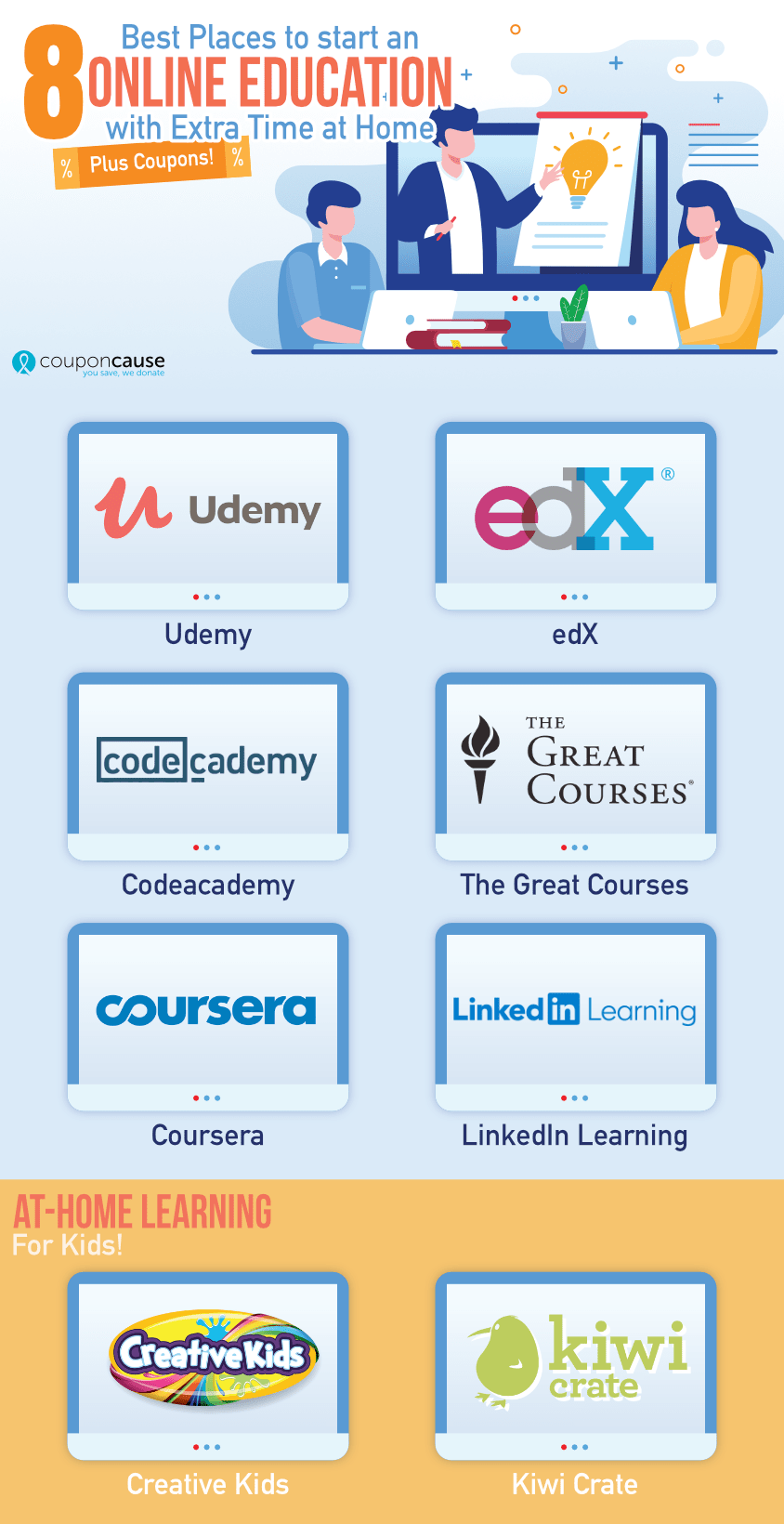 At-Home Learning (For Kids!)
When it comes to learning at home, you don't want to forget about the kids! It can be extremely easy for your kids to complain about boredom, especially when they are cooped up at home. Why not fill their spare time with great educational tools?
Creative Kids
Creative Kids is the go-to source for fun, interactive kids' arts and crafts toys. This company is home to hundreds of different supplies, crafts, and more to keep your kids entertained for hours. Creative Kids' goal is to bring innovative, quality-driven products to market and they truly deliver on this goal. Their buildable toys, paint supplies, Play-Doh kits will encourage the best kind of creativity in your little ones. Creative Kids promo codes like these will help drive down the cost of this educational tool:
Kiwi Crate
If you're looking for an enriching, yet fun, learning experience, look no further than Kiwi Crate. It's simple: you pick a subject theme based on age and interest, choose a plan, and watch as your kids have fun! These well-designed projects inspire kids to become creative problem-solvers without getting bored. Subscription prices depend on the subscription plan and line that you choose. Here are a couple Kiwi Crate coupons for your use:
When you're bored at home, one of the best choices you can make is to invest in your education. You don't need to go to a physical university or class to get quality learning however, all you need is your computer and Internet access. And while you are spending your time learning and fine-tuning your skills, your kids can enjoy quality education tools at home too!
Boredom doesn't have to overtake your mind if you're stuck at home for sick or home for the summer. With these educational tools, you can practice skills and even acquire knowledge on a brand new subject. You can also view our complete guide to the best places for online education for more information!
---