Back to School Shopping Guide: 10 Essential Items
August 7, 2019 by Angie Long
The back-to-school shopping season is the second-largest shopping season of the year, and when you consider how much extra stuff kids need these days, it's no wonder. It isn't just paper and pencils on supply lists any more; it is also common to find things like headphones and certain types of software or electronics.
Even if not required, these 10 essential items can help ensure that your child is well-equipped for the 2019-2020 school year. Visit our section of new back to school deals to find even more savings for this year.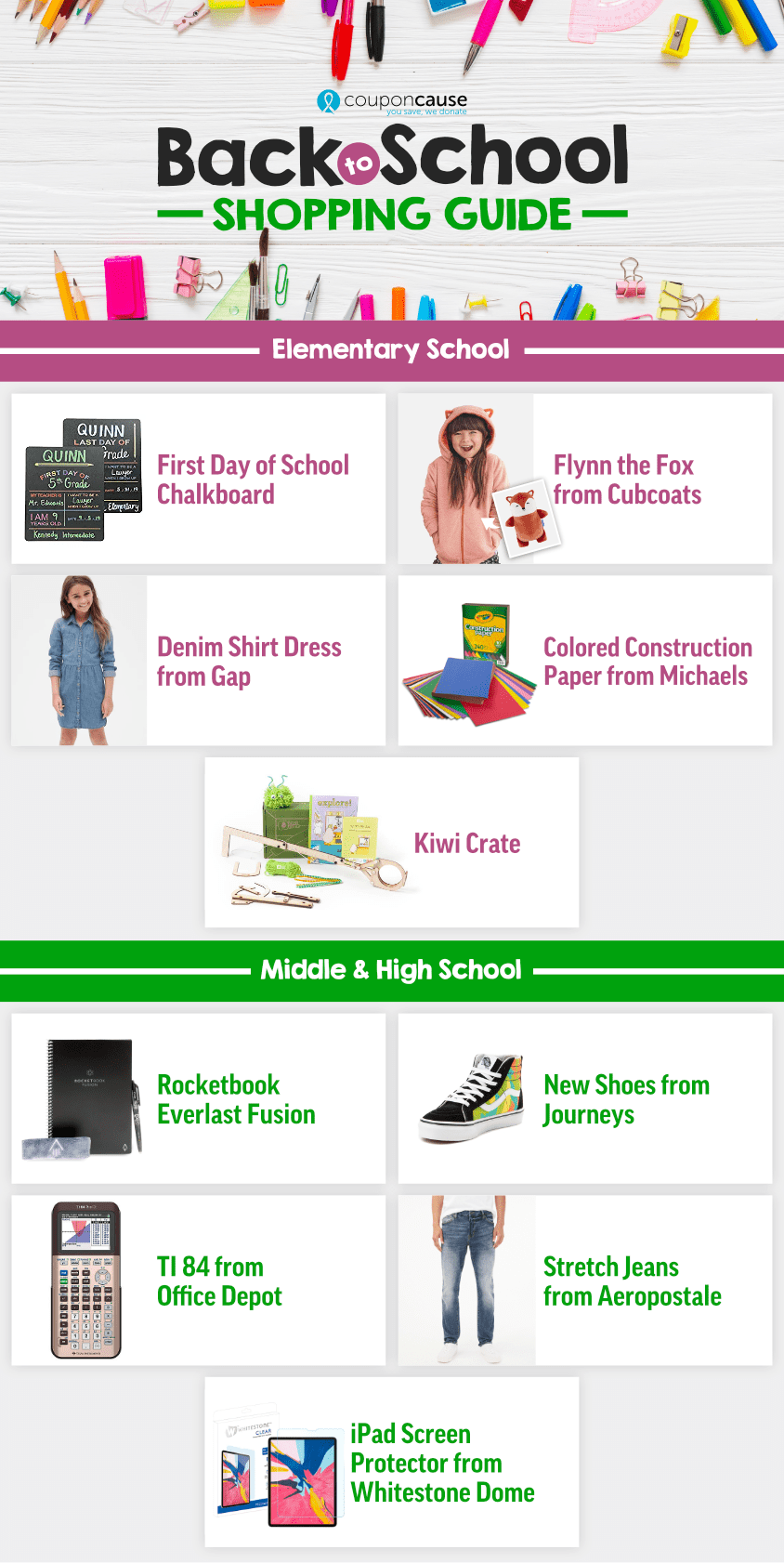 Back to School Shopping Guide
-Elementary School-
"First Day of School" Chalkboard - Anyone on social media knows the popularity of the "First Day of School" sign as they scroll through their news feed at the start of the school year. Sure it may get a little excessive, but as the saying goes, if you can't beat 'em, join 'em. These "First Day of School" chalkboards can be used year after year, and serve as great reminders for not only how your little one looked, but also what teacher they had that year and what they want to be when they grow up.
Flynn the Fox from Cubcoats - This two-in-one hoodie is super cute and turns into a stuffed animal when not worn. They're also great if you have a little one who tends to fall asleep on long car rides and could use a pillow to support their neck. Check out more Cubcoats here! Plus, they have adorable names, like Flynn the Fox. We also carry a few Cubcoats coupon codes that will help you save on this back to school item:
Denim Shirt Dress from Gap - When your kid's idea of back-to-school clothing is different than yours, mornings can get pretty stressful. Meet your daughter in the middle with this denim shirt dress that says she's casual, yet put together stylishly. Wear it with a cute pair of socks and sneakers, or pair it with warm leggings in the winter. These Gap coupons are perfect for saving on back to school fashion:
Colored Construction Paper from Michaels - Teachers seem to be getting more and more specific about the supplies they need, but for good reasons. The appearance and quality can noticeably differ between brands. Such is the case with the very popular request for Crayola multi-colored construction paper, which is a trusted source for a variety of classroom crafts. See if there is a Michaels promo code you can use to save on your back to school supplies:
Kiwi Crate - Learning doesn't have to be all about mandatory homework. Make it fun with a Kiwi Crate, and they'll never even realize it's educational. Created by educators and engineers, Kiwi Crate offers projects for every age and every interest while encouraging kids to be natural problem solvers. Kiwi Crate is especially helpful for homeschooling parents. Choose between a monthly plan, three-month plan, six-month plan and annual plan. This can be a fun way to supplement what your child is learning in school! Save on your order with a Kiwi Crate discount code:
-Middle & High School-
Rocketbook Everlast Fusion - Staying organized is key to achieving good grades. Carrying around a cumbersome notebook to track assignments, ideas and notes is an inconvenience that can be avoided with this Rocketbook Everlast Fusion. Kids can write their notes and scan them to the cloud where they can access them from anywhere. It has 42 reusable pages and seven different templates for setting goals, taking notes, sketching, making lists and more. It is compatible with Google Drive, Evernote, Dropbox, iCloud and more.
New Shoes from Journeys - Sporty kids are sure to find something they like from Journeys for their back-to-school wardrobe. Make them excited for a new school year with some new kicks, like the Vans Sk8 Hi Zip Pop Camo Skate Shoes. Don't forget to stack up the savings. Here are a few Journeys discount codes that can be redeemed online:
TI 84 Calculator at Office Depot - One little known secret is that Office Depot has a convenient way to shop for school supplies with their "School List With a Click" feature. They have pretty much anything a kid could need in terms of school supplies, such as $10 backpacks and even TI 84 calculators on sale for $119.99. These Office Depot coupon codes will help you save some extra money:
Stretch Jeans from Aeropostale - Whether it's a school uniform you need or simply some on-trend basics to get your teen through the school year, Aeropostale is a safe bet if you need to keep your kid happy while still complying with school dress codes. Now you can buy one pair of jeans and get one free. You can also try one of these Aeropostale coupons to add on the savings:
iPad Protector from Whitestone Dome - Many middle and high school students have (or are even required to have) a tablet these days. And considering how expensive they are, combined with how reckless kids can be, it is foolish to not have some sort of screen protector on the device. Whitestone Dome Glass is a patented tempered glass that provides edge-to-edge coverage. It is applied with a liquid adhesive that can even fix minor cracks and scratches that exist on your screen. The iPad Whitestone Clear & Privacy Screen Premium Glass Protector (9.7", 11", 12.9") makes it look and feel like there isn't even a screen protector on the iPad. Of course, our selection of Whitestone Dome discount codes are perfect for back to school shopping:
With a little preplanning and smart budgeting, you can get what your child needs for the school year without spending too much. Try to remember that even if you get your child one extra item that isn't necessarily "needed," it can give them a big boost of confidence and make them more excited for the school year. So if that $60 pair of shoes seems like a lot, it may be worth the investment if it makes your child feel confident among their peers. Also, a lot of the prices mentioned above can be cut lower with deals from Coupon Cause, so be sure to check back regularly.
---