Best Ways to Order Hot Food and Grocery Delivery Online, Plus Coupons
March 20, 2020 by Tiffany Douglas
Having hot food and groceries delivered right to your home is the ultimate convenience. All you have to do is order online and wait! It's that easy. But where are the best places to order food from online? Here are a few options for ordering groceries online or having hot food delivered in your area!
Where to Order Food Delivery Online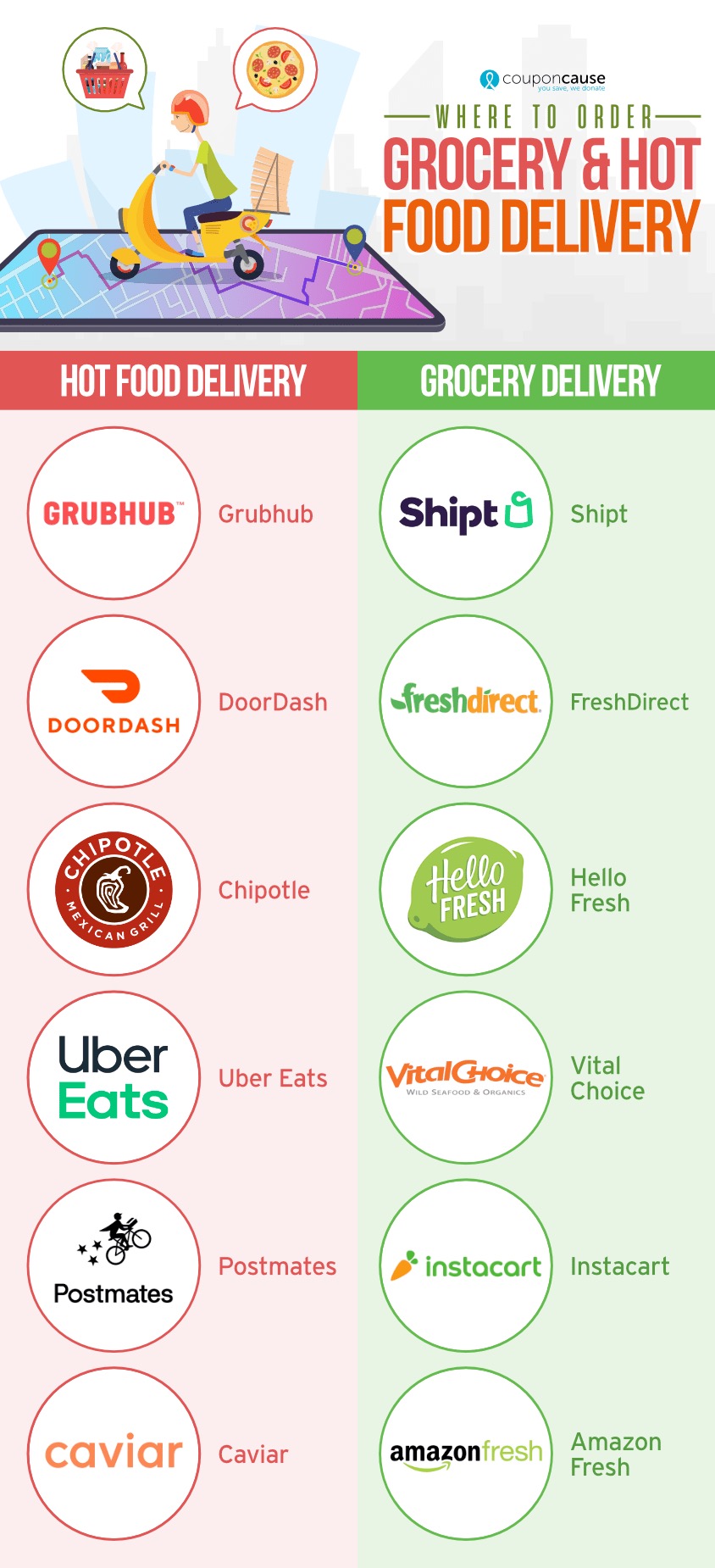 Best Grocery Delivery
Shipt
Use Shipt to order groceries or other supplies from local grocery stores and retailers. Depending on volume, delivery is usually done within an hour. Simply select the store and put your list together. Shipt is available as a smartphone app, making ordering groceries online easier than ever. Use these Shipt coupon codes to save on your grocery delivery:
FreshDirect
FreshDirect grocery delivery service offers every type of drink and food item you can think of right to your home. Whether it's fresh fruit or a bottle of wine, you can use FreshDirect to order your groceries and never leave home. FreshDirect is also available on smartphones. Here are two FreshDirect promo codes currently available:
HelloFresh
HelloFresh makes cooking meals at home super fun and easy. Sign up for HelloFresh and receive all the ingredients you need to pull together an all-star meal right at home. No need to make a list or select your ingredients, everything gets shipped right to you, ready to prepare. You can save on a HelloFresh order using one of these HelloFresh coupon codes:
Vital Choice
Vital Choice is a top online delivery service option for those with a love of high quality seafood and meat. All Vital Choice seafood is wild and all meats are organic. Plus, you can find certain spices and supplements available for home delivery through Vital Choice. These Vital Choice discount codes will help you save on your order:
Instacart
Instacart is a very popular option when it comes to ordering groceries online for home delivery. They have been featured in publications like The Wall Street Journal, Forbes and more! Put together your list of groceries for local stores and relax as they make their way right to your door. Here are Instacart coupons for saving money:

Amazon Fresh
Amazon Fresh is another great option for grocery delivery and utilizes a platform many of us use already! Delivery is quick, depending on volume, and all done right from the familiar Amazon platform. These Amazon coupons could help you save on your purchase:
Best Hot Food Delivery
Grubhub
Grubhub will deliver food from participating restaurants in your area as soon as possible after ordering. Download the smartphone app and scroll until you find what you're craving! Grubhub discount codes are available for savings:
DoorDash
DoorDash also works with restaurants to deliver their food directly to their customers. Like Grubhub, DoorDash has a smartphone app which customers can use to select restaurants, place orders and track food deliveries. Before ordering, find a DoorDash coupon that you can use:

Chipotle
Chipotle is offering free delivery of their food through the entire month of March 2020! This delivery special is available through Chipotle's partnership with UberEats. You can get your favorite Chipotle item using UberEats "leave at my door" option.

Uber Eats
You've probably used the ridesharing app Uber before. Did you know they also deliver food? Use Uber Eats to order from a local restaurant without ever having to leave home! These two Uber Eats coupons have been updated for your use:

Postmates
In certain areas, Postmates can be used to link hungry people with local restaurants. Use the Postmates app to place an online delivery order and receive your food in the comfort of your home! Try our Postmates coupons to save:
Caviar
Order food online from your favorite local restaurant through Caviar and track it as it approaches! Before placing your order, however, be sure to try one of these two Caviar coupons:

---