10 Best New Tools for Online Education Plus Coupons
April 12, 2018 by Eric White
It's always a great time to improve yourself! And in this age of technology in which we all live, it's never been easier to jumpstart a little self-improvement.
Here are a few of our favorite online education tools and some coupons to help you save on your purchase.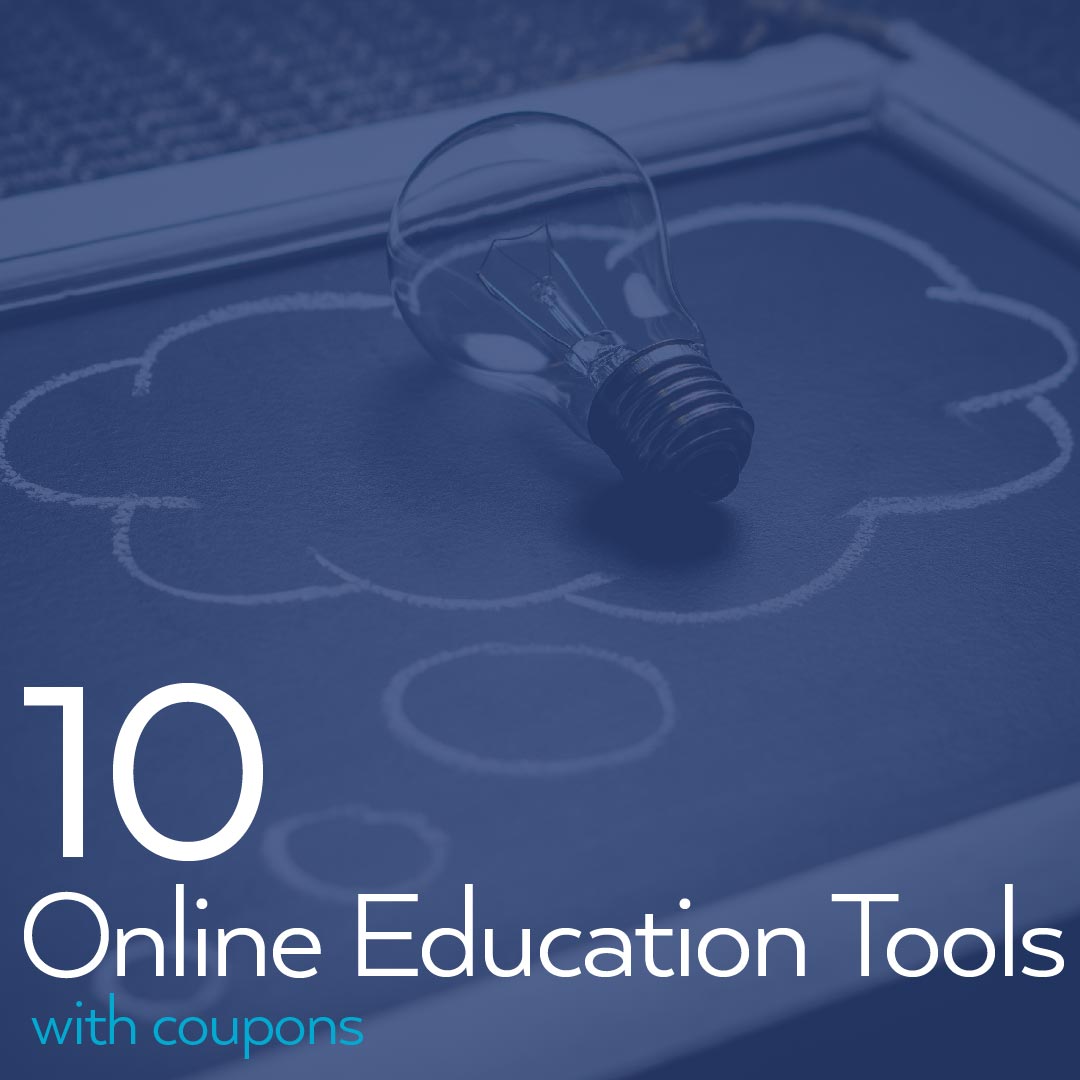 10 Best Online Education Tools with Coupons
1. edX: Where many online education tools are not accredited or affiliated with universities, edX has partnerships with major universities like Harvard, MIT, Berkeley and more. Some courses on edX are actually available for university credit! Find classes ranging computer sciences, language, finance, biology and more at edX. You can currently save up to 9% on MicroMasters programs with our edX coupons.
2. JAM: Children can turn smart devices like iPads and computers into learning tools with a JAM subscription. JAM is a project-based learning application that has learning materials available for children ages 6-17. Children will receive projects to work on, tips to help them finish and then at the end, can share photos and videos of their project with other Jammers for community feedback. Save 20% off any new course with our JAM coupons.
3. Udemy: Choose from over 55,000 classes ranging from science to mathematics to art and everything in between. Udemy courses are not accredited. However, pay a one-time flat fee for the course you desire and you will have access to it forever. There are no time limits or restrictions once you've purchased a course. It's yours! Use Udemy deals to save money on your course, like all courses for $9.99.
4. Bespoke Post: Bespoke Post isn't your typical education tool. But that doesn't mean you won't learn! Bespoke Post is actually a subscription box for men which often includes guides and tips on learning new skills and hobbies. Learn how to make cocktails or grow herbs and spices. The boxes are always different and always feature great new hobbies! Use a Bespoke Post promo like 25% off your first order + free shipping. Bespoke Post is one of our Top 10 Men's Fashion and Style Subscription Boxes.
5. CertBlaster: Perhaps you don't need to learn something new. Perhaps, you've already learned it and now you need to test your understanding. That's where CertBlaster can help. CertBlaster offers practice tests and exams for Comptia A+, Securty+, Linux+ and more. Get a taste of the real thing before you take your exam! Save $10 off all orders with our CertBlaster promo codes.
6. EssayEdge: Essays are a normal part of the education process. You don't need to go it alone, though! Use the EssayEdge essay editing and review service to get your essay up to professional standards. Send your writing to EssayEdge with any notes and you will be connected with a professional and have notes on your work, most times within 24 hours. An EssayEdge coupon like 10% off your order of $100+ can help save on this great service.
7. Screenwriters University: Become a better screenwriter with a course from Screenwriters University. Perhaps you've always had a knack for writing and want to refine your skills or you just crave learning something new. Taking a screenwriting class from Screenwriters University is sure to improve your storytelling. Find courses on dialogue, outlining and even making your idea a film. Screenwriters University coupons like 10% off any course make learning super affordable.
8. Master of Project Academy: Advance your professional career with a course from Master of Project Academy. This is the place to go for courses like 360 Degree Project Manager Interview Simulation, PMP Certification Training and Microsoft Project Training. These are technical courses designed to progress the careers of professionals across several sectors. Find Master of Project Academy coupons like 25% off courses to help save on your new skill.
9. 360Training.com: 360Training.com is another online education tool for the industry professional. You'll find skills that will help progress the careers of people in the industries of Environmental Health and Safety, Real Estate, Food and Beverage, Financial Services and several more. 360Training.com has users spanning the globe in 176 countries. This is also a great tool for businesses looking to train new employees. 360Training.com promos can help you save money. Try out our coupon for 15% off any order.
10. Rocket Languages: One of the fastest ways to pick up a new language is with the help of an online education tool for language like Rocket Languages. Pay one time, instead of signing up for a regular subscription, to have access to the courses and materials you need to master a new language. Choose from over a dozen languages including Spanish, French, Russian and even Sign Language. A Rocket Languages coupon like $50 off should help things!
---